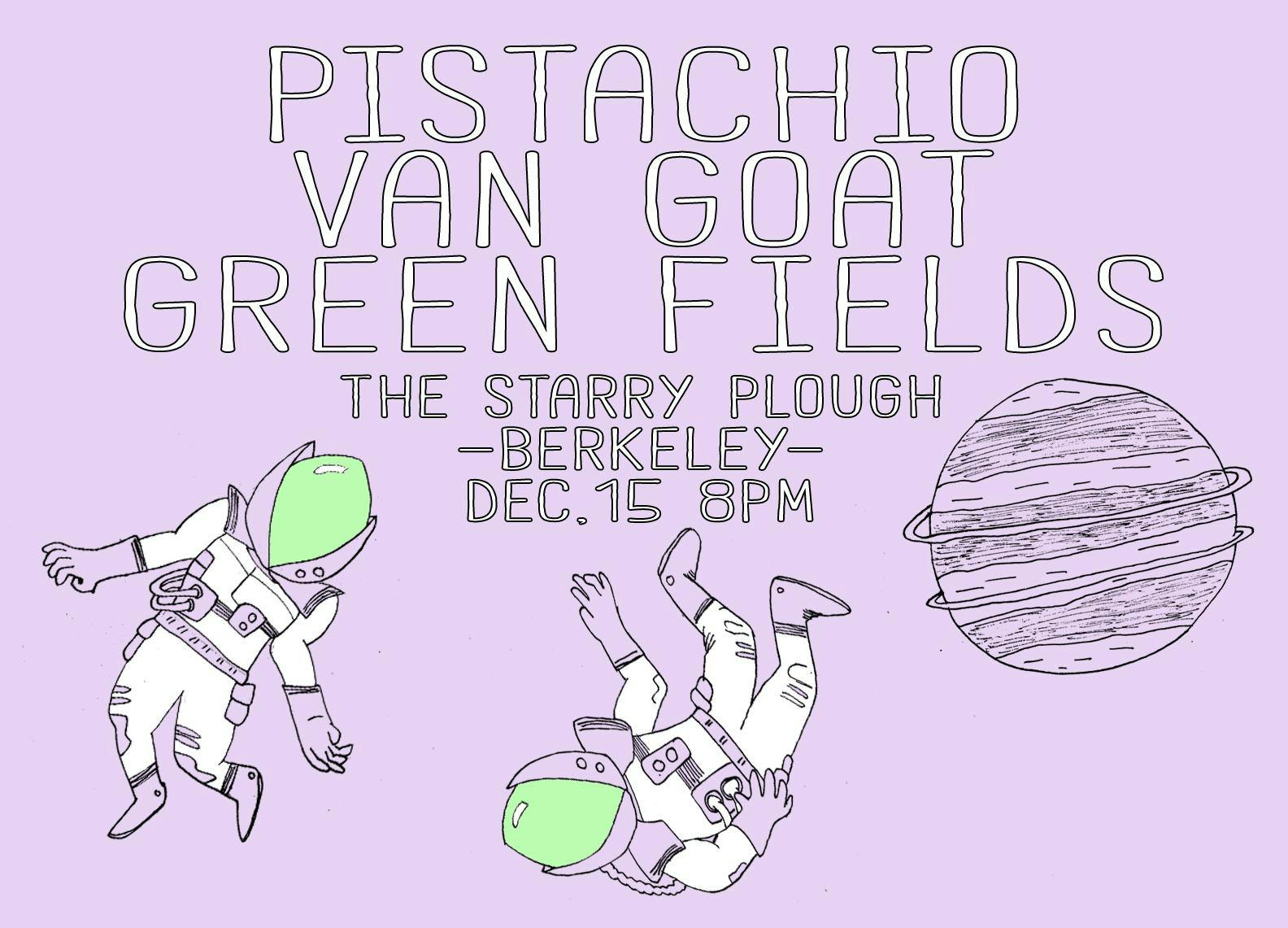 About this Event
Pistachio
Pistachio plays groove-driven rock. Sometimes it's funky, other times it's latin, reggae, or disco, but at its core it gets you moving. Their songs cascade from dramatic orchestrations to extended improvisations, and just when you think you've pegged them, they assume a new sonic guise. Vocal harmonies provide the anchor for these disparate influences, pushing the band to sound much larger than your average trio.
www.pistachiotheband.com
Van Goat
Punk. Swing. Ragtime. Southern jazz. Surf. Van Goat is a band to which you could apply many labels, but none would quite prepare you for what you're about to hear as you pop on your headphones and queue up their album.
Harnessing the diverse DIY aesthetic of their native Oakland, Van Goat (featuring Aidan Ward, Ben Einstein, Derek Burle, Lindsay Alexis, and Taylor Moxon) is in the business of writing not only songs that you can dance to, but entire albums that you can enjoy front to back without pausing or skipping: a musical experience wherein each successive song's mottled riffs and bewildering charisma is pleasantly startling.
Green Fields
On a fateful day twelve years ago, hidden deep within the dense forest of the Mendocino coast, an evil took his forceful vengeance against his archenemy. Satan Toad had risen from Hell to fight Angel Frog, who emerged from Heaven just a few seconds prior to his nemesis' arrival. Satan Toad had conjured all of the dark malice buried in the circles of Hell, Angel Frog conjuring up all of the shining power that God had to proffer. It was the ultimate showcase of good versus evil. Two humans, Paul and Pookie, witnessed the battle, for they were having a stroll in the woods that day. They hid within a crevice in a humongous redwood where they watched the battle burst into action before their very eyes. It inspired them to start a bluegrass band, nay, a brewgrass band, destined for an annual spot headlining in Hell. If they could only gain Satan Toad's favor, he might give them the power to rule the world! But if they anger him, he might exile them into boiling pools of blood surrounded by Centaurs armed with malignant whips of fury for all of eternity. Only time will tell what his decision will be...