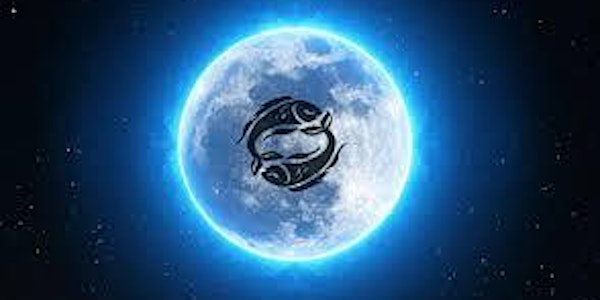 Pisces Full Moon Ritual + Meditation
Come together in community and ritual to harness the energies of the Full Moon in Pisces .
About this event
In this virtual workshop, we will learn about some of the aspects of this particular moon, perform a ritual to tap into these powerful full moon energies and finish off with breathwork and meditation to anchor in the gifts available to us through these energies.
You will need:
TBD
This event is $25 when done in person. If you are working and can still pay, please do. 💸 If you are experiencing financial hardship at this time, please still join. I am honored to support you. 💗
PayPal: paypal.me/bloomretreat
Venmo: @Jenna-Hedstrom
Zelle: jenna.hedstrom@gmail.com
The cosmological gravity of the full moon has a profound effect on the element of water - think in terms of how the moon affects the ocean tides. Our bodies are made of about 60 - 70% water, so we can feel the effects of the full moon greatly. Emotions relate directly to the water element which is why emotions are more easily accessible during a full moon, making it a powerful opportunity to acknowledge and release them to create more space within for our highest potential.
------------------------------------------------
ABOUT JENNA:
Jenna is an Advanced Breath of Love Teacher and Facilitator, intuitive spiritual guide, highly trained yogi (ERYT-500), sound healer, and entrepreneur. She has worked with thousands of people in their personal growth journey to find lasting peace, transformation and bold expression of their soul's Purpose. She is currently an Advanced Teacher for the Breath of Love Certification Course and has shared the stage with world-renowned healers such as Julia Mikk, Dan Brule and Jim Morningstar to name a few. Her extensive background, study and focus on yoga, sound healing and Breath of Love work for trauma and emotional healing has allowed her clients to make breakthroughs that they have not been able to make doing any other type of work.
Jenna's spiritual journey began with a dark, shadowy gift – the gift of tragedy. However, this experience led her to yoga and cracked her open to infinite possibility and her Soul's Purpose – living a life of Divine Service. The sacred practice of yoga provided an outlet for her grief, and created a profound alignment of body, mind and Soul. Yoga became her life, and her medicine – and then she discovered breathwork. Breath of Love has provided her the most valuable tool she has found to connect to her innate intelligence and wisdom. She now thrives on sharing this work with others to find and embody their own unique power and purpose within.
The Breath of Love work combined with her studies of yoga, sound healing, mindfulness, trauma and somatic therapy allowed Jenna to transform her own traumas into a powerful healing presence, which she now brings to her private sessions, workshops and retreats to transform the lives of many others.