Description
Come adventuring in Newburyport to meet local author Elizabeth Lorayne with the release of her new children's picture book sequel, The Adventures of Piratess Tilly: Easter Island. And because Piratess Tilly cares about those in need and about building awareness, the party is also a fundraiser! All book sale proceeds
(at the event and through the PiratessTilly.com Shop)

and raffle ticket sales are being donated to the local Edward's families foundation, Cure SPG47.
Book Signing

$15 Raffles for 3 fabulous gift baskets! Pre-order yours here!

Lollipops

Craft Station

... fun for the entire family!
Learn more on PiratessTilly.com and CureSPG47.org
Special thanks to real estate agents Siga Snipas and Gretchen Stone of Bean Group for their sponsorship!
The Adventures of Piratess Tilly Easter Island
Written in haiku by Elizabeth Lorayne and illustrated in watercolors by Karen Watson
"An eye-pleasing picture book that offers a winning mix of adventure, science, and poetry, with a strong heroine who invites readers to view the world as a place of natural wonder" –Kirkus Reviews
"Piratess Tilly is a swashbuckling heroine in a charming tale of scientific adventure!" –Jo Anne Van Tilburg, Ph.D. Director, Easter Island Statue Project
Written in the poetic form of haiku and illustrated in watercolors, this exciting tale invites you again to come adventuring with budding naturalist Piratess Tilly, captain of research ship Foster. Yuki, her rescued koala friend, and her crew of orphaned international boys are on their way to the most remote island in the world, Easter Island (Rapa Nui), where Piratess Tilly will dive to study the local fish. While exploring the myserteous monolithic statues and ruins, they happen upon a smuggling of sooty tern eggs by pirates! Can Piratess Tilly, Yuki and the brothers safely save the eggs?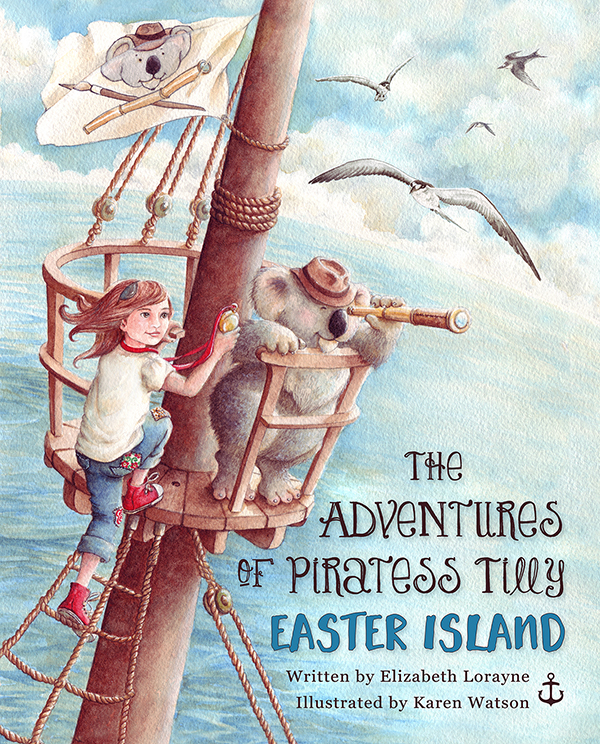 The Cure SPG47 non-profit organization was founded in 2016 by families of two of the known patients. We refuse to accept the bleak prognosis which our children face. We have decided to fight. The purpose of this organization is to study and seek a cure for SPG47. We are driven to raise funds to direct towards the most promising scientific research. Our goal is to tip the odds in favor of all SPG47 patients, giving them a chance at a high quality of life which will not be attainable without intervention through revolutionary treatments. Learn more on CureSPG47.org