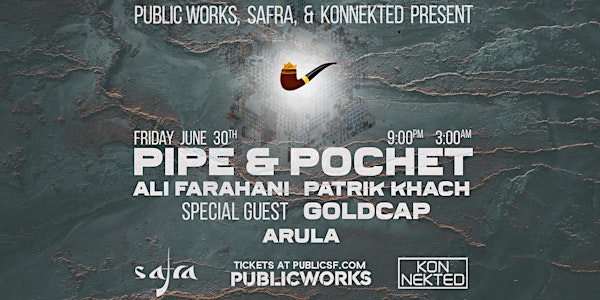 Pipe & Pochet showcase w/ Goldcap, Ali Farahani, and Patrik Khach
Ages 21+
Safra, Konnekted, and Public Works
Pipe & Pochet showcase W/ Goldcap, Ali Farahani, and Patrik Khach presented by Safra, Konnekted, and Public Works
Date and time
June 30 · 9pm - July 1 · 3am PDT.
Location
Public Works 161 Erie Street San Francisco, CA 94103
Performers
Headliners
More Performers
About this event
6 hours

Ages 21+

Mobile eTicket
Friday, June 30th, 9pm - 3am
Main Room / 21+ / Limited Capacity
LINEUP:
➩ Goldcap
➩ Ali Farahani
➩ Patrik Khach
━━━━━━━━━▲━━━━━━━━━
Goldcap bio
Goldcap's (Berge Sahakian) roots in music are based in an eclectic pool of genres since his earliest ages. Listening to everything from classic rock, traditional indian, orchestra, and reggae, to classical, metal, west-african, and middle-eastern styles of music. From youth, having picked up instruments like the electric/acoustic guitar, bass guitar, classical piano, and various different percussive instruments, it was only natural for him to incorporate an organic feel into his musical selections. Also being a fan of poetry, films, ambient sounds, traditional instruments, and the spoken word, you will often find him incorporating an eclectic array of samples into his sets.
Ali Farahani bio
Born in Milan Italy with Iranian heritage, I started music when I was 14 years old playing afro cuban percussions. Growing up in Italy, electronic music is ingrained into the culture and has had great influence on the evolution of my productions.
Around the age of 18, I began to create music. My very first release was titled "Persian Dream" featuring Marco Bonuso released on Sound Division (ITA). Persian Dream was one of the first fusion tracks that truly combined electronic music with Middle Eastern vibes. Persian dream was one of the most successful tracks played in 2007 by some of the largest artists in the world.
The next release was a collaboration with DJ Aron of LE Follies De Pigalle called "Don't feel no shame". It was featured as one of the top Beatport tracks and number 6 on the overall chart for 2 months in 2008. Shortly after, I started to play at many clubs and events across Italy.
In 2011, I moved to LA and shifted away from European-tech to more sophisticated sounds with experimental grooves and slower beats inspired by my origins.
After moving to the US and being away from music for few years, I started producing and djing again and most recently opened the Santa Monica based label Pipe & Pochet with Patrik Khach. My goal is to inspire other artists and fans through music and have now began to showcase my productions in the US and beyond.
Patrik Khach bio:
Los Angeles based DJ/ Producer/ Event Curator/ Label Owner
Starting from 19 years old in the blossoming scene of LA's house music, Patrik positioned himself among nightlife impresarios. Working for industry giant Insomniac where he spent endless hours meeting and promoting artists, he observed techniques and stamina of DJ's delivering to a 1,200 person dance floor on a weekly. Patrik naturally progressed to the stage himself opening for international acts like Dubfire, Art Department, John Dahlback, and Sharam building his own vision clearly unique from the rest. Patrik has since created and maintained a level of integrity that is rippling through the city as one of the most in-demand acts. He uses the power of music to manipulate time and space by mixing traditional sounds from different cultures with modern day electronic beats. On the dance floor, Patrik has mastered connecting people with eclectic sounds and grooves, uniting listeners from all walks of life. His recent elevated status has earned him to play with notable artists like Acid Pauli and Be Svendsen, invited by Goldcap to play at his intimate Mojave Desert gatherings, and receives a gratitude of support from distinguished labels like Sol Selectas. In 2016, Patrik and his team launched SBCLTR LA, an ongoing series of meticulously curated parties in Los Angeles and have since become a local sensation and internationally recognized. SBCLTR LA studies, discovers, and selects an intelligent roster of sound, pulling talent from all over the world and promises an outcome of underground sophistication. The platform has served as an outlet for creative ingenuity and encourages artistic expression, allowing talent to breakthrough to a receptive audience in an atmospheric setting where events are strategically held at different locations each time. To mark another landmark in 2016 is lightly put. Patrik and veteran producer Ali Farahani established "the classier side of electronic music," as they claim of their record label Pipe & Pochet. Certainly, the gentlemen duo have a complementary joint approach to running a label just as much they do DJing together. Patrik was inspired to move toward music production and immersed himself so deep in the studio, he completed his first track with fellow DJ/producer Sarkis Mikael titled Sioux. Released on Pipe & Pochet during the height of the Dakota Access Pipeline controversy, their first release raised charitable funds responding through the positivity of music.Future projects promise Patrik is the face to watch as he continues to succeed each journey of his flourishing career. His journey sends an open invitation to the world for people to connect, one track at time from one dance floor to another.A product of Iran with Armenian blood raised and currently residing in Los Angeles, Patrik Khach is a DJ, music producer, event curator, and label owner.
━━━━━━━━━▲━━━━━━━━━
When you purchase tickets to this event you'll automatically be signed up for LOCAL 161, Public Works' SMS community where you'll get special invites + guestlist + other perks as a thank you for your support. You'll receive about 4 messages per month, message and data rates may apply, and you can text STOP to cancel at any time.