Description

---
Pioneertown Motel welcomes musicians Calvin Love & Korey Dane for the first Fireside Session of the season...
21+
7 PM - Doors
8 PM - Show
FREE - first come, first serve, general admission
For room availability: http://www.pioneertown-motel.com/
---
---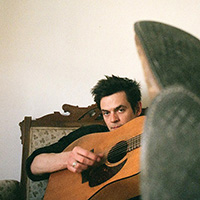 CALVIN LOVE / Toronto
Only once in every blue moon comes an artist that seems so familiar yet out of space as Calvin Love. Like a stranded space captain locked in a cockpit recording his final thoughts. The young charmer arrives an enigma, a strutting, crooning contradiction: as menacing as he is magnetic, blending obsession with the beauty of artifice and the inner systems of real and natural things. It's this infallible match of the authentic to the inventive that make Calvin Love's work so strange and inviting.
-Rebel Union Entertainment
---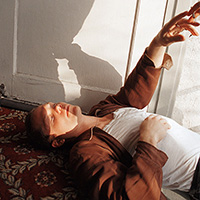 KOREY DANE / Los Angeles

"Hard times/Everyone lies/Love dies," Long Beach troubadour Korey Dane sings in the track "Hard Times." Sounds pretty bleak, but the song itself comes off as more of a celebration—an understanding and acceptance that the lows in life are just as important as the highs, and essential to the human experience that Dane likes to explore. With the Gram Parsons guitars of "Heart Out West" and his heavy-lidded, aged-whiskey delivery on songs like "Jay & The Coyote" and "Half Asleep," Dane is continuing to burrow into his own place in the Americana sphere. He's striving for the unpretentious American poetry of mid-period Springsteen or John Prine and sometimes gets close with winners like "Swinging for the cheap seats / While you show the world your front teeth" in "Always," or the guy who's "lookin' like a man with a $100 plan" in "The Knife Got Gold." The well-treaded mythos of America—the rambler, the wanderer, a full tank of gas and a desert highway—are inescapable here. Each song conjures up images of golden light from the setting sun, shimmering blacktop, Dane and a pretty brunette sitting in a charmingly run-down roadside eatery—lens flares abound. Yet it never feels put-on. The music—largely recorded live—seems to flow from Dane. It's who he is. The E-Street organ on "Charlie Handsome" helps make it a standout, while the rust-covered guitar solo and Jeff Buckley-esque vocals on "Down In A Hole" may make the slow shuffle the best song on the album. With his understated good looks, honey voice, and poet's heart, Dane is the guy Echo Park girls are hoping to see at the dark end of the bar—not that they would have much of a shot. If he's anything like his songs, he'll be cutting out—back on the road soon enough.
-Madison Desler // L.A. Record
---
---