Description
NV Concepts Presents the Inaugural Pioneer Music & Arts Festival featuring Wale, Elephante, GoldFish, Ripe, and many more!!!

Join us for art, music, and beer on Saturday, April 22nd 2017 at the outdoor Young Men's Club of Hadley, the site of Oktoberfest Massachusetts.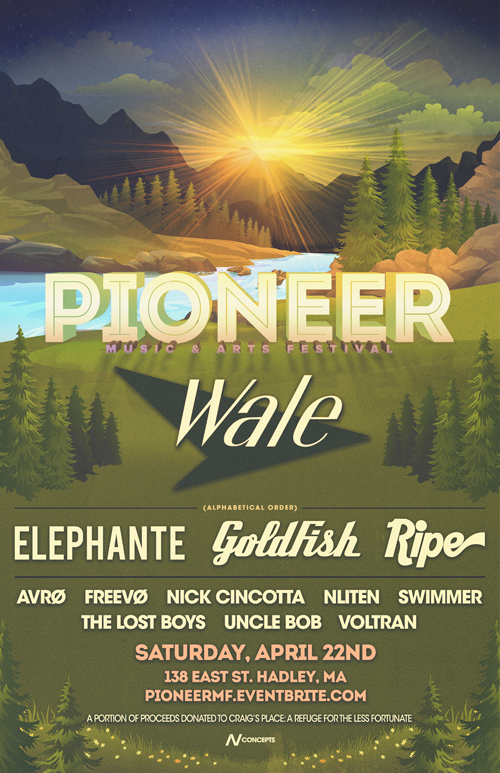 Tickets available at the door!
Each ticket purchase includes a $1 donation to Craig's Place, the only Wet Homeless Shelter in Hampshire County that recently lost its only funding from the State. Additional donation amounts are encouraged and can be selected in the check out process.
FOR MORE INFO ON #SAVECRAIGSPLACE: https://vimeo.com/194925855

All inquiries: pioneermusicfestival@gmail.com

Stay up to date:
instagram.com/pioneermusicfestival
facebook.com/pioneermusicfestival
twitter.com/pioneermf
FREE Round trip shuttles will be running from Olde Towne Tavern (1 Pray St. Amherst, MA) from 11:30 AM - 1:30 PM to the Young Men's Club of Hadley (138 East St. Hadley, MA) and back from 4:30 - 6:30 PM.
FREE offsite parking is available at UMass Lot 34 (300 Massachusetts Ave. Amherst, MA) walking distance to Olde Towne Tavern.
No onsite parking at Pioneer Music Festival.
No refunds for any reason.
21+