Actions and Detail Panel
Pioneer Century 2017
Sat, June 3, 2017, 6:30 AM – 5:30 PM PDT
Description
The Pioneer Century offers great routes. whether you seek a social ride or personal best. What's your pleasure for the 2017 Pioneer Century?
8 miles / FRONTIER FAMILY
This easy route is perfect for adults riding with children. The Pioneering kiddos can ride their own bike, be on a tag-a-long or in a trailer. View the farmlands and Cascades from quiet roads. This little ride will show the younger cyclists the joys of road riding and includes their own mini rest stop.
Minor children must be accompanied by an adult.
34 miles / ELLIOTT PRAIRIE:
This pastoral course gives you all the rural splendor and quiet roads of the longer routes without any long sustained climbing. With less than 1000' of elevation gain, it's the perfect fit for the newer rider or those who aren't quite ready for the longer distances.
62 miles / SAWTELL PASS METRIC CENTURY
For returning riders this route will look familiar as you explore the Molalla-Canby area. You'll find a total of 3390' of elevation gain to challenge you...but those climbs are going to reward you with exciting vistas of the Mt. Hood Territory.
62 miles / VALLEY METRIC CENTURY
This route offers a less challenging metric century for those who want some good scenic mileage without a lot of climbing. At 1880' of elevation gain many riders will find this suits their needs to perfection.
100 miles / HERITAGE HUNDRED
Our full century gives you 4,320' of elevation gain with rest stops approximately 26 miles apart. For returning riders, you will find this loop takes you over miles of rolling hills and farmlands WITHOUT returning to the fairgrounds until mile 100. That's right...do the entire century, then come back to the fairgrounds!
104 miles / HERITAGE PLUS

Love to climb?...Add the Sawtell Pass Loop to your ride for 500' more of elevation excitement.
EventBrite Pricing
8 mile Frontier Family Feb 12 - May 31 $20 per family. June 3rd "Day of" $30 per family. All other route options...., "Early Bird Special" Feb 12 - April 13 (members only* )$30. April 14 - May 31 (members only*) $35, non members $40. June 3rd "Day Of" $50 . *Memebers of "PWTC", "VBC", "Salem" or "Ride Like A Girl".
ATTENTION ALL PIONEER RIDERS!
You will enjoy having a nice catered meal waiting for you upon completion of your preferred route IF YOU PRE-REGISTER AND ORDER A LUNCH. Please note that our caterer, Catering Rides Northwest, will provide their ever popular buritto with all the fixins'. Reserve yours as you register, only $10
Remember, you must order your lunch with your pre-registration.
After your meal peruse the various booths at the fairgrounds including Zing Bars, St. Josef's Winery & Beer Garden and other vendors.
START / FINISH:
June 3, 2017 • Clackamas Fairgrounds, 694 NE 4th Avenue Canby OR
REGISTRATION TABLES WILL OPEN AT 6:30am
COURSES OPEN AT 6:30am
ALL RIDERS MUST BE ON COURSE BY 10am
Downloadable registration form (pdf) @ PWTC.com
Mail-in form must be postmarked by May 25, 2017
2017 Pioneer Event Jersey preview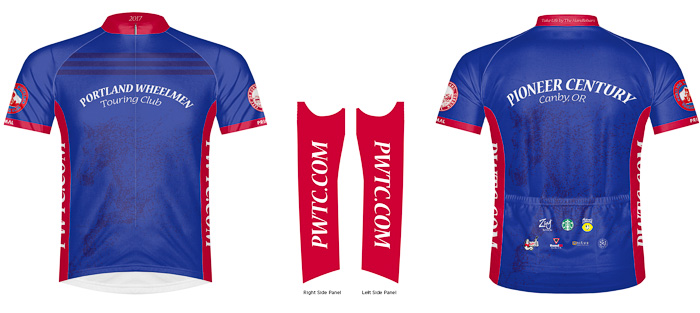 Pioneer Century
Sponsored by the Portland Wheelmen Touring Club
For more details please go to Pioneer Century | Portland Wheelmen Touring Club