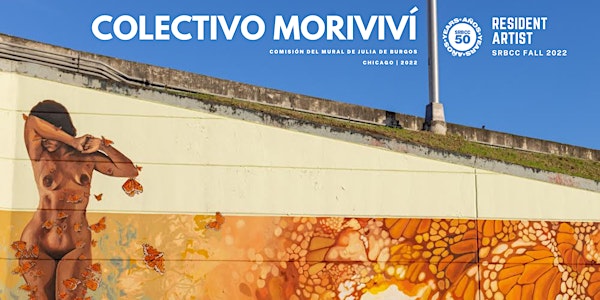 Pintadas Comunitarias: El Proceso Creativo de Colectivo Moriviví
Artistic residence of Colectivo Moriviví at SRBCC for the design and execution of a mural in honor of Julia de Burgos in Chicago.
When and where
Location
Segundo Ruiz Belvis Cultural Center 4048 West Armitage Avenue Chicago, IL 60639
About this event
English
Meet the artists and discover the creative process and proposed design of the mural dedicated to Julia de Burgos by Colectivo Moriviví, coming directly from Puerto Rico to invite the community to participate in this historic mural. Sign up for our "Pintadas Comunitarias" (Community Painting Sessions) to be held at Julia de Burgos Park (1805 N Albany Ave, Chicago, IL 60647) throughout the month of October.
Reception and snacks for participants courtesy of Segundo Ruiz Belvis Cultural Center. Presented and commissioned by Segundo Ruiz Belvis Cultural Center in partnership with Friends of the Bloomingdale Trail.
ABOUT SEGUNDO RUIZ BELVIS CULTURAL CENTER
Segundo Ruiz Belvis Cultural Center (SRBCC) is the longest-standing Latino cultural center in Chicago. Established in 1971, it was named in honor of Segundo Ruiz Belvis, a Puerto Rican patriot and member of a secret abolitionist society that freed slave children under Spanish rule. In that spirit, SRBCC realizes its mission to preserve and promote appreciation of the culture and arts of Puerto Rico with a focus on its African heritage.
SRBCC realizes its program philosophy by developing multi-disciplinary programs, with a strong focus on supporting professional artists and creative youth, that highlight the presence of African cultures in the Caribbean. SRBCC celebrates Afro-Puerto Rican and Afro-Latino cultural traditions through dance, music, theater, and visual arts.
All SRBCC programs receive partial funding from Illinois Arts Council, IDHS, Driehaus – MacArthur Funds for Arts and Culture, Gaylord & Dorothy Donnelley Foundation, Chicago Community Trust and Field Foundation of Illinois.
About Friends of the Bloomingdale
The mission of the Friends of the Bloomingdale Trail Park Advisory Council is to be the community stewards of the Bloomingdale Trail, the heart of the 606, by having an independent voice while working closely with all stakeholders, to ensure that the trail is a vibrant, inclusive part of the Bloomingdale corridor.
Español
Descubre la propuesta y diseño del mural dedicado a Julia de Burgos a cargo de Colectivo Moriviví. Inscríbete en nuestras "Pintadas Comunitarias" a realizarse en el Julia de Burgos Park (1805 N Albany Ave, Chicago, IL 60647) durante el mes de octubre.
Recepción y aperitivos para los participantes cortesía de Segundo Ruiz Belvis Cultural Center. Presentado y comisionado mediante una asociación entre Segundo Ruiz Belvis Cultural Center y Friends of the Bloomingdale Trail.
Colectivo Moriviví
Nuestra misión es producir arte público y experiencias de arte colectivo con la intención de repensar las visiones que aceptamos en nuestra cultura, y reflejar las diversas narrativas de las comunidades puertorriqueñas para contribuir a nuestra memoria colectiva.
Nuestra visión es que el arte sea accesible a todos fuera de sus instituciones tradicionales y que nuestras comunidades puedan aprovechar sus múltiples beneficios: culturales, político-históricos y terapéuticos.
SOBRE EL CENTRO CULTURAL SEGUNDO RUIZ BELVIS
El Centro Cultural Segundo Ruiz Belvis (SRBCC, por sus siglas en inglés) es el centro cultural latino más antiguo de Chicago. Fundado en 1971, fue nombrado en honor a Segundo Ruiz Belvis, el patriota puertorriqueño miembro de un grupo abolicionista secreto que liberó a niños esclavos durante el dominio español. Inspirado en su ejemplo, SRBCC desempeña su misión de preservar y promover una apreciación por la cultura y las artes de Puerto Rico y América Latina, con un enfoque especial en su herencia africana. SRBCC se caracteriza por el apoyo constante a artistas profesionales y a jóvenes talentos con potencial creativo. SRBCC celebra las tradiciones culturales afropuertorriqueñas y afrolatinas a través del baile, la música, el teatro y las artes visuales.
Friends of the Bloomingdale Trail
La misión del Consejo Asesor de Friends of the Bloomingdale Trail Park es ser los administradores comunitarios de Bloomingdale Trail, el corazón de 606, al tener una voz independiente mientras se trabaja en estrecha colaboración con todas las partes interesadas, para garantizar que este importante sendero sea una parte vibrante e inclusiva del corredor Bloomingdale.