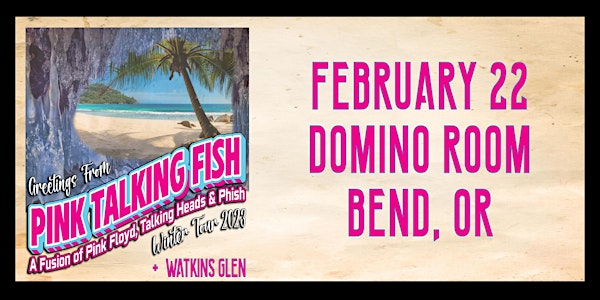 PINK TALKING FISH w/ WATKINS GLEN LIVE IN BEND 2/22/23
PINK TALKING FISH w/ WATKINS GLEN @ DOMINO ROOM, BEND, OR - WEDNESDAY FEBRUARY 22, 2023 - PARALLEL 44 PRESENTS
When and where
Location
Midtown Ballroom/Domino Room/Annex 51 Northwest Greenwood Avenue Bend, OR 97701
Refund Policy
Contact the organizer to request a refund.
About this event
4 hours 30 minutes

Mobile eTicket
Parallel 44 Presents PINK TALKING FISH w/ WATKINS GLEN at The Domino Room in Bend, OR on Wednesday, February 22, 2023. The East's finest hybrid tribute act together with The West's finest hybrid tribute act, together again on one stage. Doors open at 8:30PM. Show 9PM. 21+ only. No refunds.
About PINK TALKING FISH:
Pink Talking Fish is a Hybrid Tribute Fusion Act that takes the music from three of the world's most beloved bands and creates a special treat for fans of the music.
Pink Floyd, The Talking Heads and Phish are all more than just bands... they are Phenomenons. Their creations have artistically inspired people and their mind-blowing live performances have brought people together to form a special sense of community around the love for their favorite band.
Although the music from each act is different, Pink Talking Fish has discovered that fusing the material together creates an amazing story. The epic emotion of Pink Floyd.... The funky, danceable layerings of The Talking Heads.... The multitude of styles, unique compositional structures and pure fun of Phish.... to merge these three into one gives music lovers a special experience.
Pink Talking Fish features Eric Gould on bass, Richard James on keyboards, Zack Burwick on drums and Cal Kehoe on guitar. This is a band created by musicians who love the music of these acts. It's purpose is to heighten people's passion for this music by creating something fresh and exciting for fans.
Discovering connections is part of the fun: Pink Floyd's "On The Run" seamlessly fitting in the middle of the composition of Phish's "You Enjoy Myself". Perfectly placing Phish's "Sand" into the groove of The Talking Head's "Slippery People". Segued collections from all three acts such as Run Like Hell > Making Flippy Floppy > Piper > Run Like Hell or Mike's Song > Have A Cigar > Once In A Lifetime > Weekapaug Groove. These ideas are the spirit behind Pink Talking Fish.
The story is ever evolving. The experience is always exciting. Come join Pink Talking Fish for the ultimate fusion tribute and celebrate the love of this music in unique fashion.
About WATKINS GLEN
Named after the largest Rock concert of the 70s, Watkins Glen is an Oregon-based Rock n' Roll band that strives to create truly magical musical moments via the adventure of wanderlust-driven improvisation, while delivering a living, breathing tribute to the enduring legacies of four legendary American Rock n' Roll bands: The Allman Brothers Band, The Grateful Dead, The Band & Little Feat, while also playing original music of their own.
Band leaders "Brother Gabe" Johnson & Evan Mullins have gathered some of the very finest players from the Northwest music scene with the intention of creating one of the most authentic, inventive and energetically compelling improvisational Rock bands in the West.
Over just a few short years, Watkins Glen has developed a very strong reputation for delivering truly inspirational performances, writing thoughtful and experiential set lists and whipping audiences into a frenzy with their scorching improvisational "magic carpet ride" live jams. Highlights of their history so far have included high profile appearances at 4 Peaks Music Festival, Sisters Folk Festival, Juan de Fuca Festival, US Fest, Bend Summerfest, Bend Fall Fest, Common Concert Series, Bend Roots Revival, and multiple performances w/ top notch national acts Melvin Seals & JGB, Pink Talking Fish, MarchFourth, Scott Pemberton and more.
Watkins Glen core personnel is "Brother Gabe" Johnson on guitars/vox, Evan Mullins on keys/vox, Kyle Pickard on drums/vox and Mark Karwan on bass/vox.