Description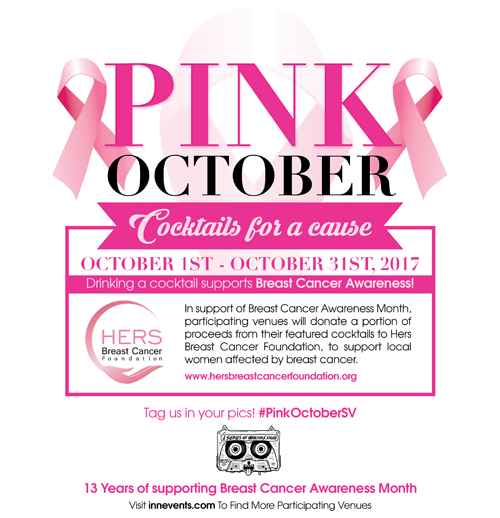 Pink October
Cocktails for a cause
October 1st - October 31st, 2017
Drinking a cocktail supports Breast Cancer Awareness!
Participating Venues (more to be added soon)
Forthright
Sp2
Vesper

In support of Breast Cancer Awareness Month, participating venues will donate a portion of proceeds from their featured cocktails to Hers Breast Cancer Foundation, to support local women affected by breast cancer.
www.hersbreastcancerfoundation.org
Tag us in your pics!
#PinkOctoberSV
Can't make it out? You can make a donation here to support the cause.
Have a venue interested in participating?
Contact us: S@innevents.com | 415.493.8368

InnEvents
13 Years of supporting Breast Cancer Awareness Month
#GETINN
Add us on your favorite social networks:
www.facebook.com/innevents
www.instagram.com/innevents
www.twitter.com/innevents