PINK GROOVE XIII - Sweet SophistAKAtion
Description
The Ladies of Alpha Kappa Alpha Sorority, Inc.
Rho Psi Omega Chapter, Charlotte, NC
Presents
Pink Groove XIII
Thursday, March 1, 2018
Featuring the Mighty DJ DR
Ink N Ivy
222 S Church Street Charlotte, NC 28202
Doors open at 9pm
21 and up, 25 preferred
For VIP Table Service Contact:Sarah Ikalowych:vip@inknivy.com 980-800-2080
For more information email: fundraising@rhopsiomega.org
A portion of the proceeds will go to support the Rho Psi Omega Scholarship fund and community programs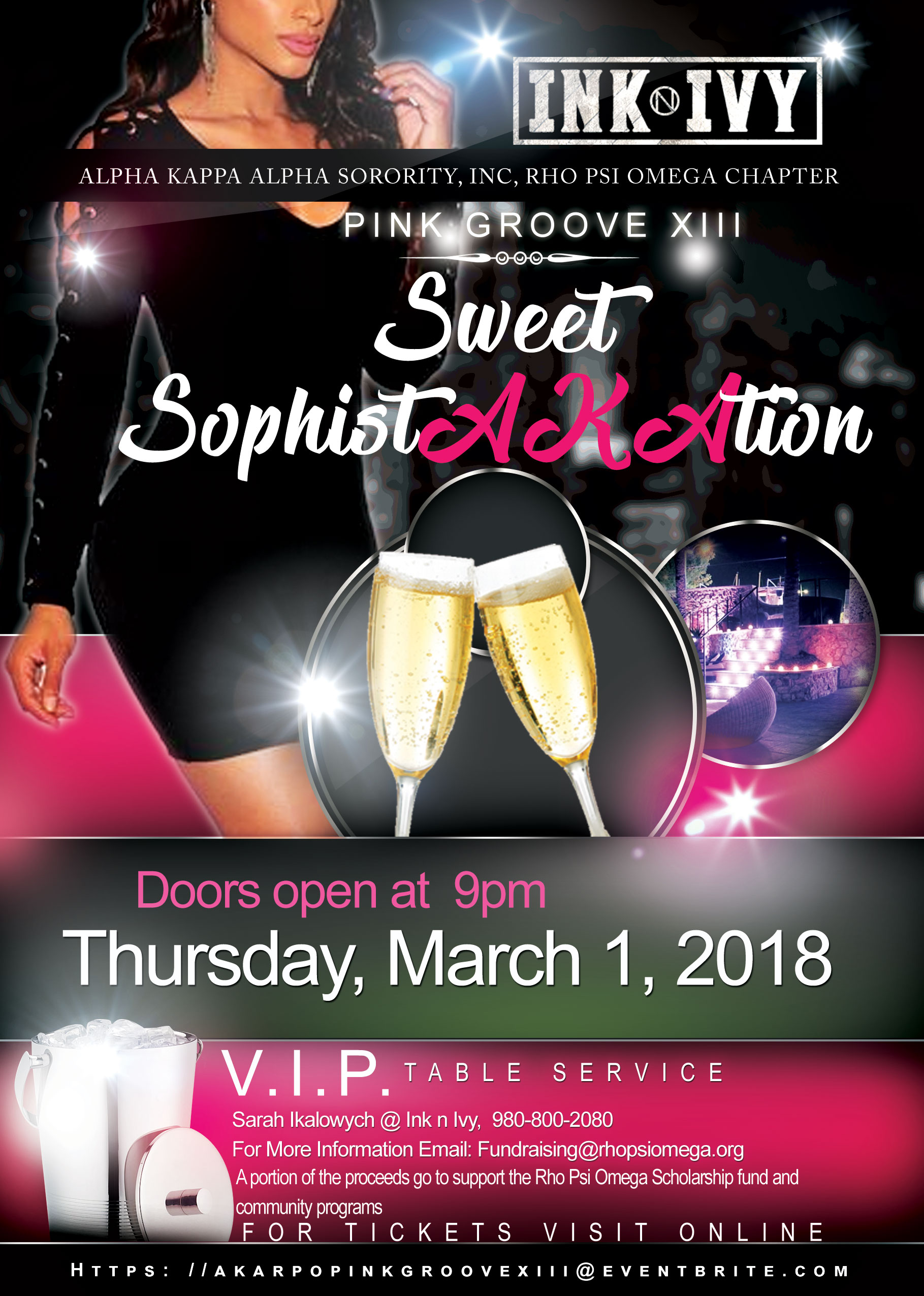 Organizer of PINK GROOVE XIII - Sweet SophistAKAtion
Alpha Kappa Alpha Sorority, Incorporated® (AKA) is an international service organization that was founded on the campus of Howard University in Washington, DC in 1908. It is the oldest Greek-lettered organization established by African-American, college-educated women. Alpha Kappa Alpha is comprised of nearly 300,000 members in 1,024 graduate and undergraduate chapters in the United States, Liberia, the Bahamas, the US Virgin Islands, Germany, South Korea, Bermuda, Japan, Canada, South Africa and the United Arab Emirates. Led by International President Glenda Baskin Glover, Alpha Kappa Alpha is often hailed as "America's premier Greek- letter organization for African-American women." For more information on Alpha Kappa Alpha Sorority and its programs, visit www.aka1908.com.
Rho Psi Omega Chapter was founded in 1989 and is a graduate chapter of over 300 members. For more information on Rho Psi Omega, visit www.rhopsiomega.org.