Description
Pink Goldfish: Amplify Differentiation to Stand Out in the Marketplace
True differentiation in business is rare. We are now living in an age of equivalency. Your brand strategy must help your business (or your client's business) stand out. Join us to hear Stan Phelps, customer experience and employee engagement expert, share seven ways to leverage what makes you stand out in a sea of sameness.
Learn actionable ways to:
• Enhance your position in the marketplace
• Improve customer retention
• Drive differentiation
• Promote word of mouth advocacy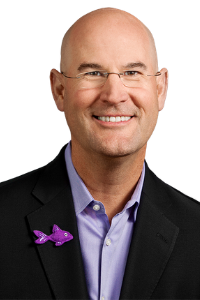 Stan Phelps is a TEDx Speaker, Forbes Contributor, IBM Futurist and Certified Speaking Professional who focuses on customer experience and employee engagement. Throughout his career Stan held many marketing leadership roles with adidas, International Management Group, PGA of America, and Synergy, where as Chief Solutions Officer he helped create larger than life brand experiences for KFC, M&M's, Walmart and Starbucks. He's the author of 10 books focusing on ways to drive differentiation, increase loyalty, and promote positive word of mouth. He has spoken at over 400 events in 16 countries. Stan holds a JD/MBA from Villanova University and a Certificate in Achieving Breakthrough Service from Harvard Business School. He lives in Cary, North Carolina with his wife Jennifer two boys Thomas and James.
NOTE: The entree will feature Roasted Pork Loin. If you prefer a vegetarian meal, please indicate that on your reservation.
Free parking is available in Lot C, at the corner of S. Grant and E. Main; there is also metered street parking.
The courtyard outside Alumni Hall is under construction and fenced in; from the parking lot enter Alumni Hall through the door by the arches. From meters on Rich St., walk around the back of the building to reach the parking lot and enter through the door by the arches.