Description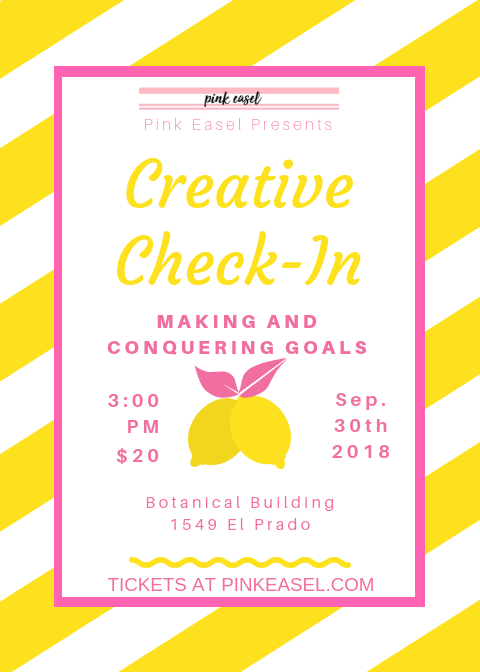 Pink Easel offers more than art classes, it's also a place where the creative minded get together to discuss their hustle and goals for their future and current projects. If you're into networking, brainstorming, and looking to find people on the same creative wavelength, join us for a session. We'll discuss, plan, and set a goal for attendees, and we'll work to keep each other accountable. The goal of this workshop is to help attendees turn their big projects into small bite size steps.
Pink Easel wants to help you in your creative process, so we'll provide some organizational tools to help plan out your next steps to achieving your goal. This workshop meets monthly and newcomers are welcome at any time.
The class will take place in front of the Botanical Gardens in Balboa Park, CA and an email will be sent out if there is a change. Do not worry Balboa Park is easy to navigate and has many beautiful attractions to see on the way to Pink Easel.

Pink Easel Art Classes will be at Balboa Park. Located near Downtown, Hillcrest, and Little Italy, Balboa Park is a beautiful and culturally inspired park filled with museums, galleries, and gardens, as well as, neighbors to the San Diego Zoo. There are many restaurants in Balboa Park like the Prado, Panama 66, and Café Mingei. Balboa Park is also close to two art supplies stores, Blick Art Materials and Artist and Craftsman Supply.
A reminder that we'll be out in the sun, water, a jacket, we'll be sitting on the grass (maybe a pillow), some snacks, and there are restrooms, ATMs, and free public WiFi through the park.
As a special bonus: All attendees will receive a swag bag filled with items to keep you organized!

Grab your tickets, limited quantity available.
In the event of rain: Emails will be sent in the morning the day of the scheduled class with a location of a Pink Easel Partnered Business that the class will be held at.