Description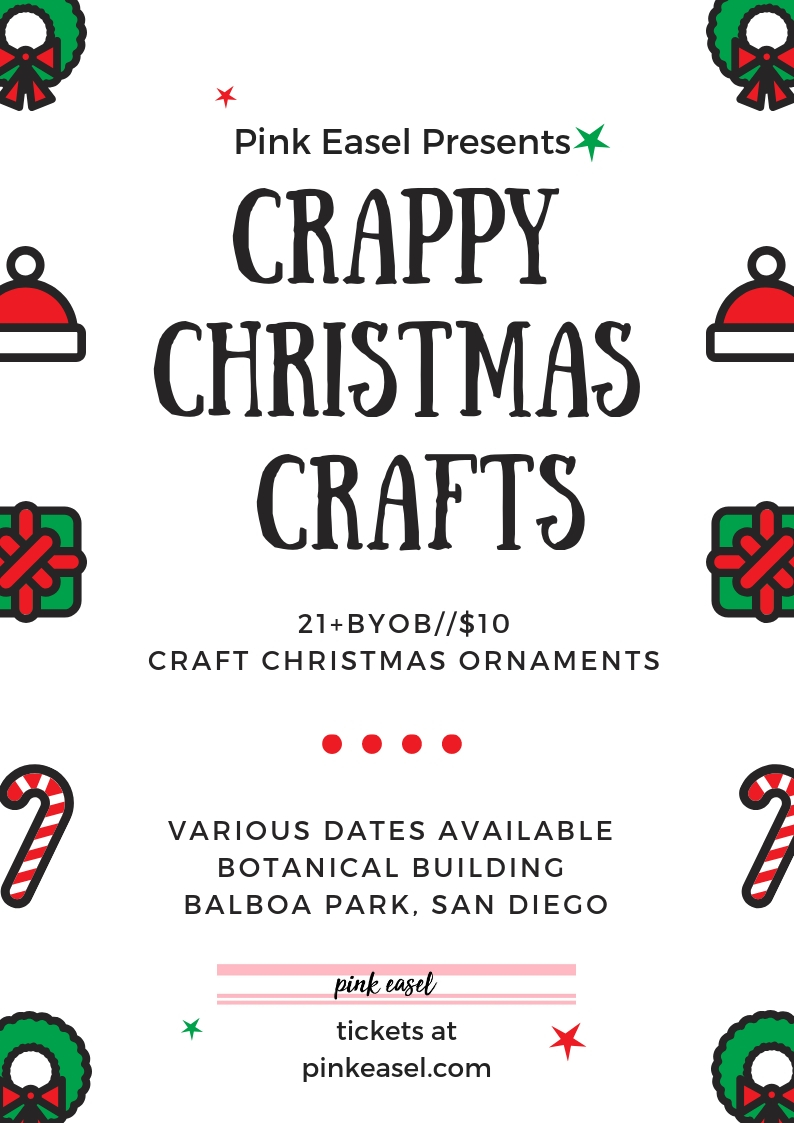 It's the holiday season and I'm sure it's been pretty stressful between the shopping and holiday parties, so let's wind down with some drinks, crafts, and great company! We'll be painting Christmas ornaments, and feel free to bring your own drinks to this picnic moonlight art party. Since this event will have alcohol, we ask to keep it 18+ and up, and if you're 21+ and please follow the guidelines below.
A BYOB (bring your own beer), class. Alcohol is permitted from noon until to 8:00 p.m. in the following locations: Botanical Building East Lawn and West Lawn (which is where we'll be at). It is unlawful to possess any cup, jar or container made of glass and used to carry or containing liquid. SDMC 63.0102(b)(7). Please, no hard alcohol. We are not responsible for your personal belongings or for paint damage to your personal clothing or personal items. We reserve the right to refuse service. (ex: nuisance or inappropriate conduct).
The class will take place in front of the Botanical Gardens in Balboa Park, CA and an email will be sent out the week before with the exact location. Do not worry Balboa Park is easy to navigate and has many beautiful attractions to see on the way to Pink Easel.

Pink Easel Art Classes will be at Balboa Park. Located near Downtown, Hillcrest, and Little Italy, Balboa Park is a beautiful and culturally inspired park filled with museums, galleries, and gardens, as well as, neighbors to the San Diego Zoo. There are many restaurants in Balboa Park like the Prado, Panama 66, and Café Mingei. Balboa Park is also close to two art supplies stores, Blick Art Materials and Artist and Craftsman Supply.
A reminder that we'll be out in the sun, water, a jacket, we'll be sitting on the grass (maybe a pillow), some snacks, and there are restrooms, ATMs, and free public WiFi through the park.
In the event of rain for BYOB CLASSES: We will postpone the class and I will send out a survey with date options, and we'll pick the best one that suits most. In the event that you cannot make any of the dates, Pink Easel will refund attendee.