Description
Lazyday.com, Elevate Lifestyle, Miller Lite & Three Olives Vodka Present:
PINK & DRINK
Saturday, October 11th
** HELP SUPPORT CAROLINA BREAST FRIENDS **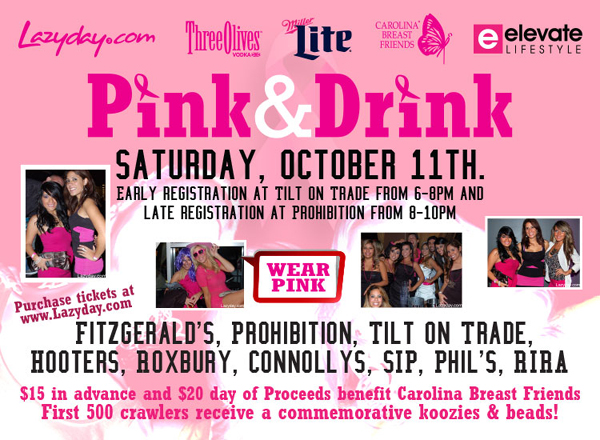 We are painting the city PINK and in doing so raising money for the true fighters of this month, Breast Cancer Patients! Proceeds from this crawl benefit Carolina Breast Friends.
Early Registration is at Tilt On Trade from 6-8pm
Late Registration is at Prohibition from 8-10pm
Bar Crawl Lineup
Prohibition - RiRa - SIP - Roxbury - Tilt On Trade
Hooter's - Fitzgerald's - Phil's - Connollys
: Entry into 9 bars/clubs, exclusive drink specials, commemorative koozie and beads, and more!
(WEAR PINK)
Email amber@lazyday.com if you have any questions or comments.
DO NOT DRINK & DRIVE!
Download UBER and receive your FIRST RIDE FREE!

Designated drivers are always welcome and can attend this bar crawl for free. Please email us for more information.
21+ only
(even for designated drivers unfortunately)
++++++++++
FREQUENTLY ASKED QUESTIONS
Q: How does it work?
A: Imagine a day of organized bar hopping. We will provide an itinerary at registration on the day of the event that will outline the bars on the crawl and a specific time to be there. At each bar we will have arranged beer and liquor specials.

Q: What time does it start?
A: You can early check-in at Tilt On Trade the day of the event between 6-8pm. Late check-in is at Prohibition that day of the event between 8-10pm. We will then hit our second group of bars of the day after you have completed registration.

Q: What if I can't make it to registration between 6-8pm ot 8-10pm on the day of the event?
A: You can send a friend to pick up your bar crawl wristband and itinerary. There is not another location once we leave Prohibition to pick up everything you need for the day of crawling. The FUN starts early so be a part of it!!!

Q: How much does it cost?
A: $10 online and $20 the day of the event. The VIP ticket is $30 for purchase online only since it is a limited quantity.

Q: Is there a charity involved?
A: Yes, proceeds benefit Carolina Breast Friends

Q: Do I get free drinks at the bar?
A: Unfortunately no but there will be great drink specials at all the locations.

Q: What is included?
A: Cover charges at nine bars & clubs, beer/liquor specials, commemmorative koozie, beads and more!
A: VIP Ticket includes everything above but also an event t-shirt, logoed glass, pink sunglasses, and discount cards to all participating venues.

Q: How, When and Where do I sign up?
A: Sign up on Eventbrite for $10 or pay $20 at Tilt on Trade from 6-8pm or Prohibition from 8-10pm and hope there is still space!

Q: Can I sign up my friends?
A: Yes. You can register anyone that is 21+.

Q: How do we get from bar to bar?
A: We will be walking from bar to bar. DO NOT DRIVE!!!

Q: Will the bars be crowded?
A: Of course, however we have taken a few measures to make the day a little more enjoyable. All bars will be fully staffed and have additional beer tubs and bars set up to help avoid long drink lines.

Q: You didn't answer my question…where can I send it?
A: Send an email to amber@lazyday.com