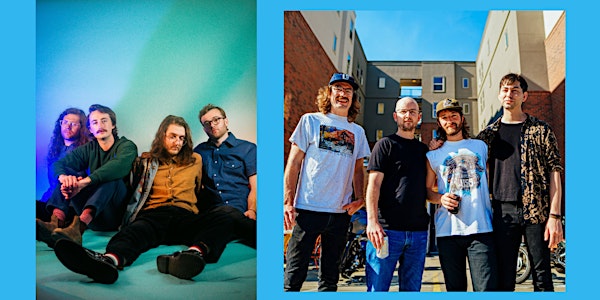 Pink Beds with David Taylor & The Tall Boys
Pink Beds with David Taylor & The Tall Boys
When and where
Location
The Evening Muse 3227 N. Davidson Street Charlotte, NC 28205
Performers
Headliners
More Performers
David Taylor and the Tallboys
About this event
2 hours 30 minutes

ALL AGES

Mobile eTicket
Pink Beds is a cerebral indie pop band formed in 2020 at the cusp of the initial lockdowns. Composed of four friends from Asheville, NC, they've cultivated a strong bond through a shared passion for lush soundscapes, artfully crafted tunes, and rhythms you can't help but be moved by. The mélange of dream pop, new wave, lounge, and disco aims to create an ethereal listening experience with a combination of low-end groove, velvety guitar, silky keys, gritty synth, and catchy melodies.
Making good use of isolation, the group combined their songwriting abilities and production chops to manifest a lush, warm, and evocative sonic environment with their December 2020 debut LP, All I Have. From tracking and production to mixing and mastering, each stage of the process was kept entirely within the group. The essence of Pink Beds, like its namesake, should be enjoyed with your own senses and a group of good friends.
Along with two singles in 2021, the band released a live album in 2022, Live From Echo Mountain, from the fabled Echo Mountain Recording in Asheville, NC. After a productive 2022 securing a foothold in southeast markets, becoming a FloydFest On-the-Rise artist, and a Relix Magazine Sonic Showdown Finalist, the band is releasing a new album in the Spring of 2023.
Pink Beds comprises Aaron Aiken (Vocals & Guitar), Jackson Van Horn (Keys & Guitar), Ryan Sargent (Drums & Percussion), and Logan Hall (Bass).
"What started out as a casual jam to entertain a keg party has morphed itself into one of the most intriguing new musical acts in Western North Carolina.
Aiken, a Brevard native, now fronts an Asheville group that stands at the intersection of indie rock, psychedelic folk and cerebral pop. It's a seamless blend, more so a vibrant flow, that harkens back to the sounds of early 2000s indie icons The Strokes and Keane, with a thick thread leading to the melodic camps of Tame Impala and Snow Patrol."
— Garret K. Woodward, Rolling Stone Contributing Writer
Facebook | Instagram | Spotify
David Taylor & The Tallboys was born after several beers and an impromptu jam session on a Monday night with the help of friends Gersh Godwin on bass, and Jason Cline on lead guitar. Matt Sloop filled out the lineup on drums shortly thereafter and the band took off running. Originally written as solo singer-songwriter songs, the Tallboys take David's tunes and turn them into rocknroll bangers that make you want to stomp your feet and drink at least one too many beers.
Despite only having been a band since early 2019, David Taylor & The Tallboys have already started making waves in the music scene. They have played at local festivals, house parties, and venues such as The Evening Muse, Snug Harbor, Visulite Theatre, The Cave, and The Pour House. They have shared the stage with bands like The Black Lillies, Swim In The Wild, Featherpocket, The New Creatures, and Juniper Avenue.