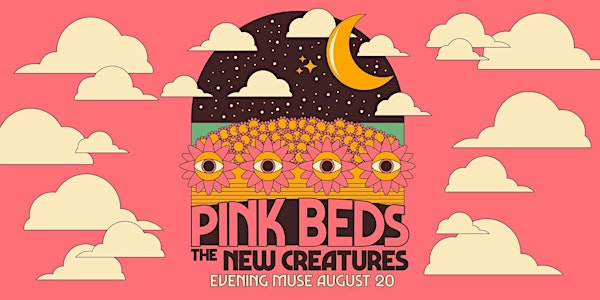 Pink Beds and The New Creatures
Performers
The New Creatures, Pink Beds
Location
The Evening Muse
3227 N. Davidson Street
Charlotte, NC 28205
Pink Beds and The New Creatures
About this event
Inspired by a mélange of influences, from New Wave and Americana to Jazz and Disco, Pink Beds comprise Aaron Aiken (Vox & Guitar), Jackson Van Horn (Keys & Guitar), Ryan Sargent (Drums & Percussion), and Logan Hall (Bass).
With their December 2020 debut LP, All I Have, Asheville, NC's Pink Beds combined their songwriting abilities and production chops to craft a lush, warm and evocative sonic environment.
"What started out as a casual jam to entertain a keg party has morphed itself into one of the most intriguing new musical acts in Western North Carolina. Aiken, A Brevard Native, now fronts an Asheville group that stands at the intersection of indie rock, psychedelic folk and cerebral pop. It's a seamless blend, more so a vibrant flow, that harkens back to the sounds of early 2000s indie icons The Strokes and Keane, with a thick thread leading to the melodic camps of Tame Impala and Snow Patrol."
-Garret K. Woodward, Rolling Stone
******
The New Creatures was formed when John and Ben met each other in college at Montana State University. Their love of rock music brought them together as they both had hopes of starting a band. Years later after parting ways they regrouped in North Carolina to form what is now The New Creatures. They met their drummer Dino through a lucky craigslist add and the band was complete.