Play FREE outdoor Ping Pong at Manhattan West.
About this event
PLEASE NOTE: Due to inclement weather, Ping Pong at Manhattan West has been canceled for July 29. Unfortunately, this was the last session of the season at this location. Please join us and play at Brookfield Place or Brooklyn Commons in the coming weeks!
____________________________________________________________________________________________
Casual or competitive, grab a paddle and play outdoor table tennis on the plaza with The Push (@thepushbk) and DJ Mike!
PLEASE NOTE:
Advanced registration is appreciated but walk-ins are welcome. If you register, you can arrive and play anytime between 5 and 8pm. Attendees will be accommodated on a first-come, first-served basis, regardless of registration.
Pre-registration makes the check-in process faster! You will need to sign a waiver to play. If you register through Eventbrite, you will be emailed this waiver ahead of time. Otherwise, you will have to sign the waiver on site. SIGN WAIVER HERE.
In case of inclement weather the event will be cancelled. In the event of a cancellation, all attendees will be notified via the email address provided during registration.
Youth under age 18 must be accompanied by an adult and that adult will be responsible for signing your waiver to play.
For the time being, please wear a mask when playing ping pong.
Join us for Paddle Battles on July 1 and July 29 – where teams of up to 5 individuals can compete (socially-distanced, of course) for bragging rights, a sweet trophy, and special prizes! Come early to join your friend's team or we'll randomly match you with other Pong Allstars.
LOCATION:
See map below. To get to Manhattan West Plaza, either #1) enter on 9th Avenue, between 31st and 33rd Streets, past Citrovia (look for lemons) or #2) enter on 33rd Street, on the south side, midway between 9th and 10th Avenues. (See map below.)
_________________________________________________________________________________________
RECEIVE A FREE GIFT! Attend an art installation or event presented by Brookfield Properties at each of the following three locations—Brookfield Place, Manhattan West, and Brooklyn Commons—and you'll receive a gift! Send one email attaching a photo of each event attended to arts@brookfield.com for verification, and we'll give you a fun treat.
All events and activations at Manhattan West adhere to New York State regulations to ensure the safety of the public and staff.
By registering for this free event, you will also be signing up for emails from Manhattan West. Please note you can unsubscribe at anytime. See the Privacy Policy here.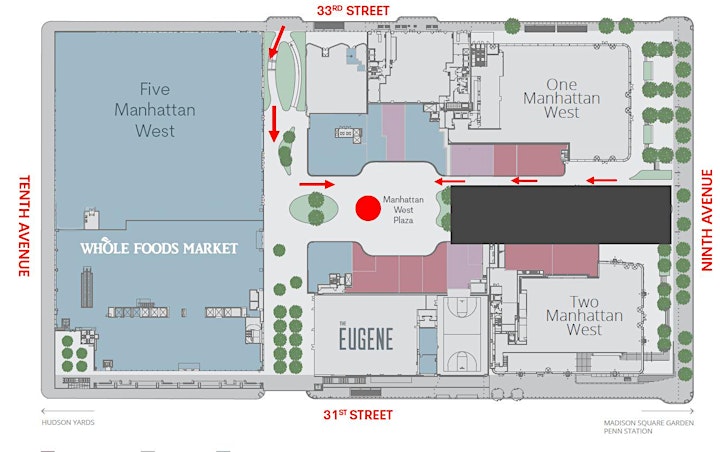 Organizer of Ping Pong at Manhattan West with The Push
Manhattan West in Midtown Manhattan is New York City's newest dynamic destination for food, culture, retail, hospitality and the modern workplace by Brookfield Properties. Officially opening in September 2021, Arts Brookfield will be presenting FREE arts, cultural, and lifestyle programming as a preview season, throughout the spring and summer. Learn more at manhattanwestnyc.com.