'Ping Pong' and 'Where Nothing Happens' Release Party!

Sunday, October 14, 2012 from 3:00 PM to 10:00 PM (PDT)
Event Details
Ping•Pong 2012 and 'Where Nothing Happens -
The Best of the Henry Miller Memorial Library' release party!


For Immediate Release!  Please help spread the word!
Who: The Henry Miller Memorial Library
What: A celebration of the dual publication of "Ping Pong," the Henry Miller Library Literary magazine, and "Where Nothing Happens," the official HML Bible. It'll be one final afternoon of music, literature, and fun before the winter kicks in. 
When:  Sunday, Oct. 19th, 3 pm.
Where:  Henry Miller Memorial Library, 48603 Highway 1, Big Sur CA -- 1/4 mile south of Nepenthe; 25 miles south of Carmel
Details:  The event will include readings by Ping Pong editor Maria Garcia Teutsch and acclaimed poets IIya Kaminsky, Katie Farris, Hugh Behm-Steinberg; live music from members of Songs Hotbox Harry Taught Us, food, wine, and more.   "Where Nothing Happens," meanwhile, is comprised of stunning photos, essays, historical tidbits, and solicited testimonials by fans like yourself about the magic and wonder of the Library and Mssr. Miller, while also politely bragging about all the cool stuff we do.
Facebook Event page:  http://www.facebook.com/events/281960971913378/



________________________

Ping•Pong is an annual publication, and this issue features an overwhelming collection of the best artists both locally and internationally.  In this issue we are featuring translations of the Roman poet Catallus ca. 84 BCE, and a folio of poetry inspired by a translation from the French of Jean Arp's poem, "What Is That?" Irish poet, Alan Jude Moore returns to the pages of Ping•Pong. There is an interview with Sonic Youth leadman, Thurston Moore, a poem by Richard Brautigan alongside a review of his book, A Conferate General from Big Sur. A gallery of beautiful photographs from iconic photographer Kim Weston are proudly featured in our pages.  Los Angeles based artist Tim Youd's art is inspired by a passage of Miller's from Tropic of Capricorn. We also have the finest American writers: Cynthia Cruz, Hugh Behm-Steinberg, Joseph Massey, James Harms and performance poet, Tara Rebele, amongst many others.

Ping•Pong's award winning writers and artists have been featured in the Atlantic Monthly, Fence, Time, The New Yorker, and Newsweek and have exhibited at the J. Paul Getty Museum, The National Gallery of Art, and the South Tipperary Arts Centre in Ireland.

The Ping•Pong release party will take place at the Henry Miller Memorial Library on October 14th at 3:00 pm.  Featured poets, Ilya Kaminsky, Katie Farris and Hugh Behm-Steinberg will read. There will also be an exhibit of paintings by Tim Youd. Live music will be performed by Big Sur favorite, Songs Hotbox Harry Taught Us, and wine and food will be served. Readings will begin at 4:00 pm. Donations accepted. 
____________

Book information:

Ping•Pong
A Literary Journal of the Henry Miller Library
2012
ISSN #1083-0944
Paperback, 221 pages, $12.00
BUY HERE

------

Maria Garcia Teutsch, Editor-in-Chief


maria@henrymiller.org


http://www.henrymiller.org/ping-pong/

------



About t

he editors:

Editor-in-Chief/Fiction Editor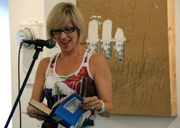 Maria Garcia Teutsch is a poet and fiction writer living in Penang, Malaysia  She has published well over 20 books of poetry in her lengthy career as an editor.  Most recently of the Homestead Review literary journal which she has published for the past 12 years.

She has two recent chapbooks: Chronicles on Violence, which was also made into a Cinepoem, and Pussy.   She is a passionate supporter of the arts and artists believing that if you supply a space artists will fill it up with wonder.
She also serves as president of the board of the Henry Miller Memorial Library. For more information please access her webpage at mariateutsch.blogspot.com.
Poetry Editors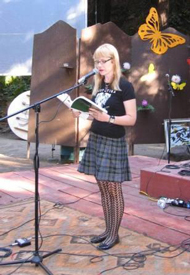 Christine Hamm is a PhD candidate in English Literature at Drew University.  She won the MiPoesias First Annual Chapbook Competition with her manuscript, Children Having Trouble with Meat.
Her poetry has been published in Orbis, Women's Studies Quarterly, The Adirondack Review, Pebble Lake Review, Poetry Midwest, Rattle, and many others.  She has been nominated four times for a Pushcart Prize, and she teaches English at CUNY.
She has published three books of poetry; Blazevox released her third book, Echo Park. Christine was a runner-up to the Poet Laureate of Queens.chamm.blogspot.com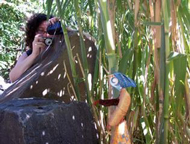 Joanna Fuhrman: Poet, author of four books: Freud in Brooklyn (Hanging Loose Press 2000), Ugh Ugh Ocean (Hanging Loose Press 2003), Moraine (Hanging Loose Press) and Pageant (Alice James Books 2009), as well as a new chapbook The Emotive Function (Least Weasel Press 2011.)  Creative writing instructor and tutor. Joannafuhrman.com
Art Editor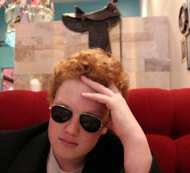 River Atwood Tabor is a writer, photographer, and the Greek chorus for your daily life.  He has been published in Shambala Sun's 35u35 collection for young authors under the age of 35.  He is currently in high school, and lives in Penang Malaysia.

When he isn't in school he is meditating, writing, reading, or doing any host of random yet brilliant activities.  He practices Soto Zen Buddhism. He looks forward to getting some of his work out there and being published more, but you know, he's only just turned 16.


Creative Director – Jenny Donegan
Logo Design – Gabriel Gandzjuk
Featured Readers at Release Party:
Poet Ilya Kaminsky was born in the former Soviet Union city of Odessa. He lost most of his hearing at the age of four after a doctor misdiagnosed mumps as a cold, and his family was granted political asylum by the United States in 1993, settling in Rochester, New York. After his father's death in 1994, Kaminsky began to write poems in English. He explained in an interview with the Adirondack Review, "I chose English because no one in my family or friends knew it—no one I spoke to could read what I wrote. I myself did not know the language. It was a parallel reality, an insanely beautiful freedom. It still is."
 
Kaminsky's honors include a Whiting Writers' Award, the Milton Center's Award for Excellence in Writing, the Florence Kahn Memorial Award, Poetry magazine's Levinson Prize as well as their Ruth Lilly Fellowship, Philips Exeter Academy's George Bennett Fellowship, and a Lannan Foundation fellowship.  He is the author of Dancing in Odessa, and Musica Humana. He is editor-in-chief of Poetry International.
Katie Farris's most recent book is BOYSGIRLS, ("a dizzying series of colorful gem-like stories, demon-and-fairy tales that present fabulous monsters that we've known existed all along. In fact, any of us might be one" (Hayden's Ferry Review). Published by Marick Press in 2011, it includes illustrations by Lavinia Hanachiuc. She is also the co-translator of Polina Barskova's This Lamentable City ("words flicker — strange, elegant — a Russian evanescence. Heat lightning pulses between her lines" (The New York Times), which was published by Tupelo Press, 2010. Her co-translation of If I Were Born in Prague from the French of Guy Jean is forthcoming from Argos Books in 2011 many of these translations appeared in the 2011 issue of Ping•Pong.  She holds degrees from UC Berkeley and Brown University's MFA program in Literary Arts, and is currently an Assistant Professor of Comparative Literature and Creative Writing at San Diego State University.
Hugh Behm-Steinberg is a poet based in Berkeley. He is the author of Shy Green Fields (No Tell Books) and Sorcery (Dusie). He teaches in the graduate writing program at California College of the Arts, where he is the faculty editor of Eleven Eleven. With Caroline Goodwin and Mary Behm-Steinberg, he is the publisher of MaCaHu Press.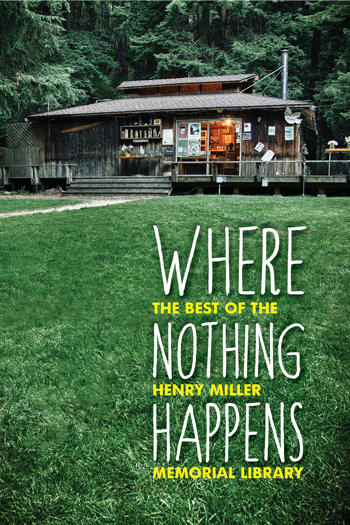 Where Nothing Happens - The Best of the Henry Miller Memorial Library

Editors: Mark Jackson & Mike Scutari
Executive Director: Magnus Toren
Archivist: Keely Richter

Please visit our Store to get your copy.

"Where Nothing Happens" is the definitive King James-esque Bible of the Henry Miller Memorial Library!

That's a right: a book comprised of photos, essays, historical tidbits, and testimonials by fans like yourself about the magic and wonder of the Library. 
(We used to call it the Henry Miller Library "souvenir book," but that was too backwards-looking.)

Elegantly designed by our great pal Mark Jackson -- don't believe us?  Just check out the cover! -- "Where Nothing Happens" is the perfect, portable, readable, and, dare we say it, wildly entertaining summation of the Library's past and a joyous road map to a limitless feature!

Come celebrate this truly historic publication and event!

" I keep the Ping-Pong table handy for people I don't want to
talk to. You know, it's simple. I just play Ping-Pong with them."
- Henry Miller


When & Where

The Henry Miller Lab
3728 The Barnyard, Suite G-23
Carmel, CA 93923


Sunday, October 14, 2012 from 3:00 PM to 10:00 PM (PDT)
Add to my calendar
Organizer
The Henry Miller Memorial Library is a public benefit, non-profit 501 (c) 3 organization championing the literary, artistic and cultural contributions of the late writer, artist, and Big Sur resident Henry Miller. The Library tries to do as little as possible since we are in Big Sur a place very well suited for doing nothing. It turns out to be difficult however because Henry Miller is egging us on to promote the things he believes make life worth living like good conversation, freedom of thought, good food, sex and art in all its forms; old, new, weird and varied! Welcome!