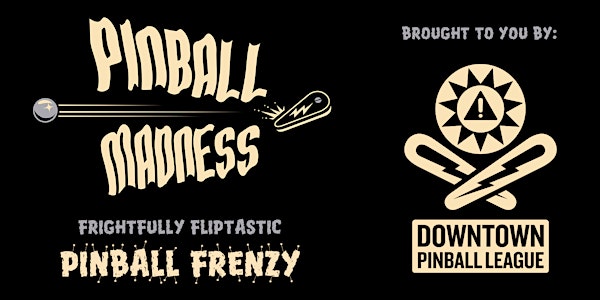 Pinball Madness - Frightfully Fliptastic Pinball Frenzy
When and where
Location
The Museum of Pinball 700 South Hathaway Street Banning, CA 92220
Refund Policy
Refunds up to 30 days before event
Eventbrite's fee is nonrefundable.
Description
Players may sign up for only one qualifying session. Please choose either qualifying Session A, at 12PM or Session B at 3PM. If you sign up and pay for both sessions, your additional ticket will be voided.
Due to limited availability and waitlist potential, refunds will only be provided until Friday, September 20th.
Ticket sales end Wednesday, October 16th at 11:30PM. After that, open spaces or cancellations will be made available for wait-list and then walk-ups only.
Tournament entry also requires a ticket to Pinball Madness at The Museum of Pinball. Please visit the Pinball Madness site for event ticketing.
Max players: 60 (30 per qualifying session)
Cost: $20, 100% payout (less expenses) + trophies for winner of each division plus a $500 Captain's Auction gift card for the A divisions winner! Other prizes pending but we will definitely have some Museum of Pinball merchandise to give away.

Qualifying Format: New for this year… Flipper Frenzy! We'll be running two separate frenzy qualifying sessions with a maximum of 30 players each session. We'll be using win differential for standings (example: 10 wins - 2 losses = +8, 4 wins - 5 losses = -1) and we'll be hiding standings until each session is over. Players may register and play in only one session. Top 8 qualifiers out of each session will qualify for playoffs. The top 4 go to A division, next 4 to B division. Ties for seeding will be broken via win-loss percentage. If there is still a tie, we'll play single ball tiebreaker on a random bank game prior to starting the finals. High seed will have first choice of game or position during finals. No game may be chosen by any single player more than once throughout. Games will be a mix of modern and classic.
Registration/Check-In: Buying a ticket is recommended. If there are any open slots on the day of the event they will be filled on a first come, first serve basis beginning at 11am Saturday, prior to the start of Session A.
Session A: 12:00-2:30PM – Sessions A players may practice from 11:30-11:50AM. Players must check in for play no later than 11:50AM.
Session B: 3:00-5:30PM – Session B players may practice from 2:30-2:50. Players must check in for play no later than 2:50PM.
Finals Format: PAPA Style, 3 Games, 4,2,1,0 scoring.
Finals Check-In: 7PM, play begins at 7:15.