Get your share of the "PIMP PROOF YOUR DAUGHTER $500 GIVEAWAY" for Back-To-School 2021/'22.
About this event
Daughters Lives Matter Stakeholders are ready to financially reward fathers efforts to Pimp Proof daughters NO QUESTIONS ASKED! But, you will need to register so that we can include your contact information in the drawing as we prepare to host the Fall 2021 "Pimp Proofing Daughters Back-To-School" Workshop. Because, not every daughter has a father present but all daughters must be Pimped Proof is a practice we demonstrate in our three (3) core principles:
Education Attainment
Victimization Prevention
Poverty Avoidance
Our goal is to "Pimp Proof" 2021 Girls in 2021 in the streets and in the sheets to ensure that they know the game and will avoid the shame.
Help the cause. Order your Combo Pimp Proof "Reminder Bat" and Daughters Lives Matter T-Shirt Today!
REGISTER NOW! Enter the "Pimp Proofing Daughters $500 Giveaway!"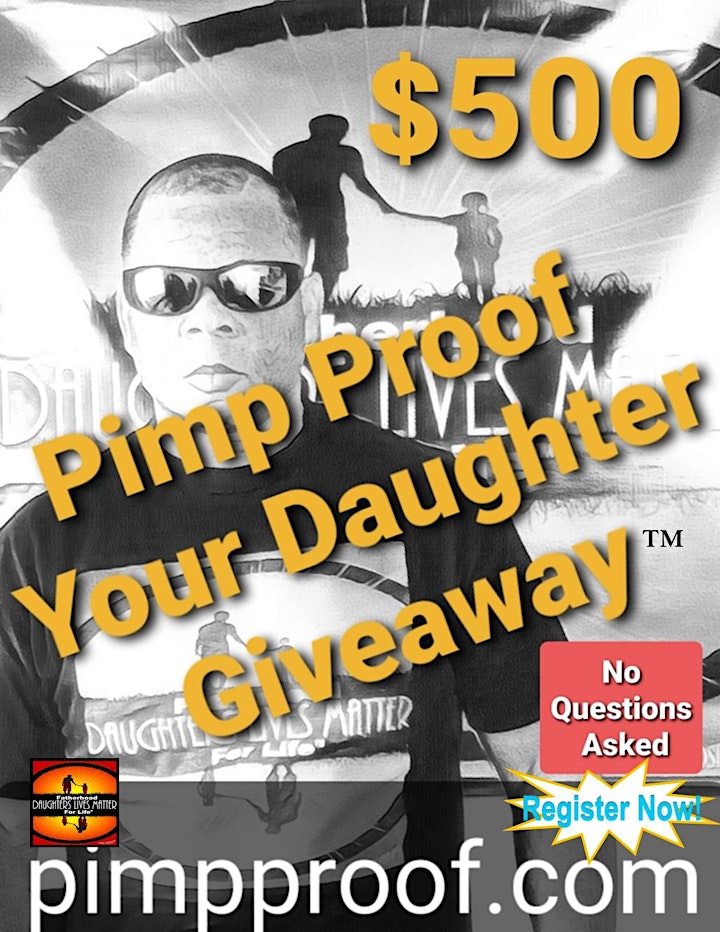 Organizer of Pimp Proof Your Daughter $500 Giveaway
Daughters Lives Matter (www.daughterslivesmatter), through dedicated stakeholders, produces ongoing events and outreach that advocates the importance of "healthy" father/daughter relationships over the lifespan.  As well as, providing resources, tools and support to aid positive and productive results involving:
Education Attainment
Victimization Prevention
Povery Avoidance