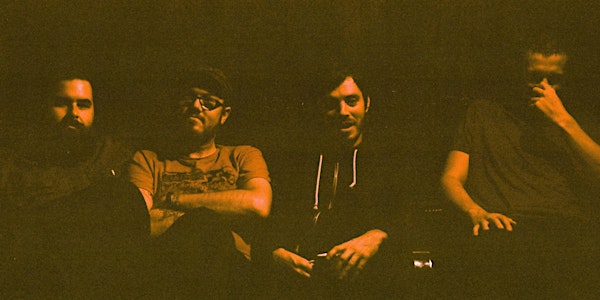 Pile
Ten Year Anniversary of "Dripping"
Location
Space Ballroom
295 Treadwell Street
Hamden, CT 06514
About this event
General Admission Standing Room Only
COVID-19 Policy
Masks are strongly encouraged.
By purchasing tickets to this event, you agree to abide by the State of CT, City of Hamden, Artist, and Space Ballroom's Health and Safety measures in effect at the time of the event. Check back for updates to your event on our website as guidelines and entry requirements are subject to change.
PILE
Pile is from Boston, Massachusetts. Started as a solo project by Rick Maguire back in 2007, Pile released 'Demonstration,' a 10 song demo and 'Jerk Routine' in 2008 before expanding their line-up. Wanting to be able to tour on the material with a band, Maguire attempted to find some other players. After some shuffling, the band found a cohesive line-up with Kris Kuss (drums), Matt Becker (guitar), Matt Connery (bass) and Maguire (guitar, vocals). In the eight years since, Pile has released several acclaimed albums, 'Magic isn't Real' (2010), 'Dripping' (2012), 'You're Better Than This' (2015), and "A Hairshirt of Purpose' (2017), in addition to two highly sought after EP's and the 'Odds and Ends' (2018) collection. Becker and Connery left the band in 2018 and Chappy Hull (guitar) and Alex Molini (bass) joined. They released their most recent album, "Green and Gray," in May of 2019. Since coming together as a full band in 2009, Pile have toured as much as their lives collectively allow, playing nearly 1000 shows spread out over the US, Canada, the UK and Europe.
Links: Official Website | Facebook | Twitter | Instagram | Spotify
MANEKA
Devin McKnight makes music to be understood. With Maneka, his wildly adventurous songwriting project, the Brooklyn-based indie rock artist has consistently and thoughtfully explored the fringes of identity. As a Black man, he writes songs that resiliently navigate the anxiety of being a minority in largely white spaces, offering solidarity to outsiders everywhere and firm defiance against a regressive status quo.
Maneka started as an outlet for McKnight to immerse himself in producing his own music after several stints as a sideman touring with other bands. "I had this big idea to be forging ahead with creating a space for black people in rock music," says McKnight. His first effort 2017'sIs You IsEP was abrasive, scrappy, and endlessly listenable complete with songs aboutThe O.C.and an outro featuring his parents talking about their childhood growing up in segregated America. This juxtaposition of McKnight's own personality and upbringing against years of generational trauma, gentrification, and injustice served as the backdrop for his explosive 2019 debut LPDevin. Earning praise for Bandcamp and Afropunk, the album solidified McKnight as one of the most essential voices in rock music. - Josh Terry
Links: Official Website | Facebook | Twitter | Instagram | Spotify