Pilates In Paradise Maui, Santé Retreat
Description
Pilates in Paradise Maui, a

Santé Retreat.
---
Aloha & welcome to Pilates in Paradise! This retreat is for Pilates & MELT enthusiasts, instructors and therapists who want to learn from world class teachers. We will showcase innovative ways to stay younger, get stronger, be balanced and improve vitality, despite an injury or condition.
You do so much, take a moment for yourself in Hawaii!
Learn, experience, grow & rejuvenate.
We will bring forth the latest innovative information on movement, rehabilitation and exercise for those who want to BE BALANCED, GET STRONGER, STAY YOUNGER LONGER.
· Experience new modalities or exercises methods from around the world.
· Learn the best of movement medicine. Move better and find new ways to meet your/client goals.
· Increase your knowledge and education on clinical conditions and injuries. This will allow instructors to be more effective and safer.
Move with confidence, and exercise effectively.
Registration Fees:
2 workshops $165
4 workshops $320
6 workshops $399 Early bird fee before January 5th 2019.
Regular Fee $455 begins January 6th , 2018
4.16% state tax added + $40 admin fee
All prices are in USD
Option to pay cash or cheque directly in USD
please contact Diane Gillis : diane@pilateskihei.com 808 344-2923


CLASSES AND WORKSHOP SCHEDULE
---
FRIDAY February 8, 2019
7:45 am Complimentary Class
Total Barre - Monique Lavoie
Total Barre efficiently blends Pilates with dance, cardio and strength-training specifically
challenging arms, legs and core to strengthen and lengthen the body.
9:00 am Workshop 1
Hypopressives, Pelvic Floor and Pilates- Dr. Darlene Buan-Basit
Hypopressive is a breathing technique to activate the involuntary fibers within your pelvic
floor. Combined with Pilates, this will take your core strength to the next level.
11:00 am Workshop 2
The Garuda Method – Dr. Darlene Buan-Basit
A beautiful blend of yoga, pilates, gyotonics, and Tai Chi to challenge your body, mind and
spirit. The Garuda method is a pursuit for a stronger, more flexible, toned body!
---
SATURDAY, February 9, 2019
7:45 am Complimentary Class
ELDOA with Pilates – Annabel Scott
ELDOA combined with Pilates will "create space" in the spine using myofascial tension and
muscle contraction.
9:00 am Workshop 1
Merrithew ™ Fascial Movement Workout -Monique Lavoie
Using various new props such as resistance loops and mini balls, this class will focus muscles
and fascia for a complete workout session head to toe.
11:00 am Workshop 2
MELT 1 – Annabel Scott
MELT will nourish your fascia to allow bones and muscles to glide smoothly, with no pain,
compression or compensation. Feel lighter with more energy and ease of movement!
---
SUNDAY, February 10, 2019
7:45 am Complimentary Class
Pilates and Garuda on the Beach- Dr. Darlene Buan-Basit
Wake up and warm up your body and spirit on the beach (weather permitting)
9:00 am Workshop 1
STOTT PILATES®Advance Matwork - Monique Lavoie
This challenging fast-paced class is designed to build endurance, enhance flexibility and
strengthen the body. Suitable for those with a strong foundation in Intermediate classes
11:00 am Workshop 2
MELT 2 Neuro- Strength – Annabel Scott
The ultimate core workout with will build awareness, orientation and timing to your deep
internal core on every level... physical, emotional and spiritual. In the mind... through the body
*7:45 am classes are complementary, Total Barre, Pilates and ELDOA, The Garuda Method.
Purchase ticket to save your spot!
Classes are complementary to participants who register for a specific day workshop.
*Private sessions also available, contact chiropracticpilates@rogers.com or diane@kiheipilates.com
---
Who are you?
We welcome Pilates, yoga, fitness teachers, trainers, clients, health care professionals, Chiropractors, Massage Therapists, Physiotherapists and anyone who wants to experience movement medicine.
Who are we?
Pilates Kihei in partnership with Chiropractic Pilates, Pilates Manitoba & Pilates Winnipeg.
Complementary Classes Description
---
Total Barre™
Bring high energy and a smile when you join us for our Total Barre workout—one of the most fun and dynamic ways to sculpt a sleek and lean physique! An effective hybrid of Pilates, dance, cardio and strength-training, this class provides an intense full-body workout that's designed to tighten and tone from the ground up. Total Barre choreographs movement patterns set to music using the ballet barre and an array of props—come solo or round up a group of girlfriends and be ready to have a blast, no experience required.
ELDOA Class
ELDOA is a revolutionary stretching and strengthening technique for the spine and joints of the body. Developed by French Osteopath Dr. Guy Voyer, the class targets every level of your spine to decompress and normalize the tension around each vertebrae. The result is renewed strength and balance throughout your body!
Garuda Class
A beautiful blend of yoga, pilates, gyotonics, Tai Chi, to challenge your body, mind and spirit…because "movement is your prayer".
Workshop Description
---
The Garuda Method
Garuda takes its name from an Indian mythological sacred bird that can change shape according to its function. It's inspired a more intelligent and intuitive way to exercise the body.
Combining the spirituality, pranayama and asana practice of yoga, the core strength and focus of pilates and the balletic grace of dance, the Garuda method is a pursuit for a stronger, more flexible, toned body. With the benefits of a robust cardiovascular workout, Garuda exercises stretching the mind as well as the body.
All classes have a definite rhythm and flow, working on mindfully increasing strength, flexibility, co-ordination and endurance. This matwork and standing class will to challenge you to a whole new level.
ELDOA with Pilates

Injury and pain is often caused by a weakness, overuse, or muscular compensations. In this workshop you will learn what are YOUR areas of weakness and compensations. Dr. Darlene Buan-Basit will provide a personalized assessment of your posture, injuy and/or condition that cause pain and prevent you from doing what you love! With this profound understanding, personalized therapeutic pilates exercises will be instructed for specific conditions and injuries.
Then the ELDOA METHOD class will be lead by Annabel Scott. You will learn the most effective stretches and exercises to normalize the fascia throughout your body and heal spinal injuries. These techniques produce such measurable results that they are being prescripted to professional athletes and post surgical clients alike.

STOTT PILATES® Advance Mat
This challenging fast-paced class, is designed to build endurance with a focus on abdominal strength.
This class is suitable for those with a strong foundation in Essential-Intermediate classes.
Fascial Movement
A unique mind-body class that is designed to stimulate the fascial system and build endurance, strength, mobility and stability.
Props such as the resistance loop and the mini stability ball to enhance the workout.
Beginner MELT:
This 2 hour workshop is for all those new to MELT, be you an elite athlete or an injured person
MELT Away Your Stress & Pain – level 1
Are you ready for some "me time"? Do want to feel relaxed, nurtured, engaged and uplifted? The MELT Method is a break through form of self-treatment of the fascia and connective tissue that helps to restore the supportiveness of the body's connective tissue. This lead to eliminating pain, improving performance and flexibility, and decreasing the accumulated stress by repetitive postures and movements of every day. For many, sitting at a desk is our natural daily habitat. This lack of movement puts unnecessary stress on our bodies in the form of aches, wrinkles, tension, headaches, excess weight & fat accumulation, inflammation, insomnia and even injuries. We work with everyone from the sedentary or have limited mobility, to the extremely active and athletic to help reduce the stressors that attack us every day.
MELT is a great addition or starting point to any lifestyle or sport. Come learn how to do it 15 minutes a day at your home or office, you will immediately sense the difference.
You will be taught the basics of the Hand & Foot & Face plan, as well as the Introductory moves on the special soft-foam MELT roller. We will supply the special ball kits and rollers, The equipment and supportive DVDs are available for purchase after the workshop.
There has never been a greater need for this in your life and mind-body experience. Annabel is excited to work with you and show you the power of your connective tissue!
MELT Neuro-Strength Workshop – level 2
Pre-requisite is the MELT Away your Stress & Pain Workshop and/or a home MELT practice
Did any one ever tell you that your stabilizing muscles fire in a distinct pattern? Well they do, and if the timing gets disrupted by chronic stress patterns, then chronic pain is the result.
If you are seeking longevity to your bones and joints, your movement, and your breathing, this workshop is a hot new core workout: MELT Neuro-Strength. You will feel your upper ribcage abdominals and your deep abdominals! Experience your core like never before: create a little "shake" in your body and experience a new neural pathway opening up. You will be able to do 4-5 reps only with great accuracy, all core, and with no pain or stiffness.
Only the MELT Method offers this unique core workout that will have you never going back to your old workout that leave you stiff and sore and aching... you will love your workouts again.
Presenters:
---
Diane Gills –Diane Gills – Diane has been coaching, teaching and motivating competitive swimmers, marathoners, clients with severe scoliosis, anorexia, fibromyalgia, osteoarthritis, arthritis, double hip replacements, children and senior athletes to new exercisers for over 15 years. Her list of qualifications also includes certifications in Group Exercise Instruction, Personal Training, and she is a Pre/Post Natal Specialist.
Dr. Darlene Buan-Basit – Dr. Darlene is a Toronto Chiropractor and Pilates Instructor with a mission to live life to its fullest and to pave the way to better health and strength.
Organizing Pilates in Paradise Maui was created as an invitation to those who seek health, balance, strength and rejuvenation so they too can maximize life.
Prior to her current one-year sabbatical in Hawaii, Dr. Darlene Buan-Basit worked a comprehensive chiropractor and Pilates instructor in midtown Toronto. With over 15 years experience, Dr. Darlene treated with a range of people from professional and recreational athletes, injured athletes, NHL players, teenagers, children and active seniors. Dr. Darlene utilizes various manual techniques from acupuncture, Active Release Technique, and Cranial Sacral Therapy to support the body's natural healing and repair. But she does not believe in stopping at this point!
Certified through STOTT Pilates, Body Harmonics, and the PhysicalMind Institute Dr. Darlene teaches matwork, reformer, chair and cadillac. Dr. Darlene is also a certified yoga instructor and Garuda instructor. She combines various exercise disciplines and rehabilitation principles to get people healthier, balanced, and stronger!
Dr. Darlene is a former Lululemon Athletica Ambassador, supporting community events and teaching classes. She is also a Teacher Trainer instructing Anatomy for Instructors and providing continuing education in Therapeutic Pilates for Injuries and Clinical Conditions.
http://www.chiropracticpilates.com/bio/
Annabel Scott – Annabel is Manitoba Fitness Council certified, Stott® Mat and Reformer certified, Stott® Injuries and Special Populations certified, Gyrotonic® certified, Yamuna Body Rolling®certified, MELT®Method Hand & Foot and fully MELT Method trained on the MELT roller!
http://pilatesmanitoba.com/profile/annabel_scott/
Monique Lavoie – An Instructor Trainer for Merrithew™ since 1997, Monique specializes ZEN•GA™ and is a Lead IT for STOTT PILATES®. She is the owner and director of 3 Pilates studios and a STOTT PILATES Licensed Training Center in Winnipeg, Manitoba. She has been the teacher trainer for Hawaii for many years!
https://www.merrithew.com/instructor-training/bios/monique-lavoie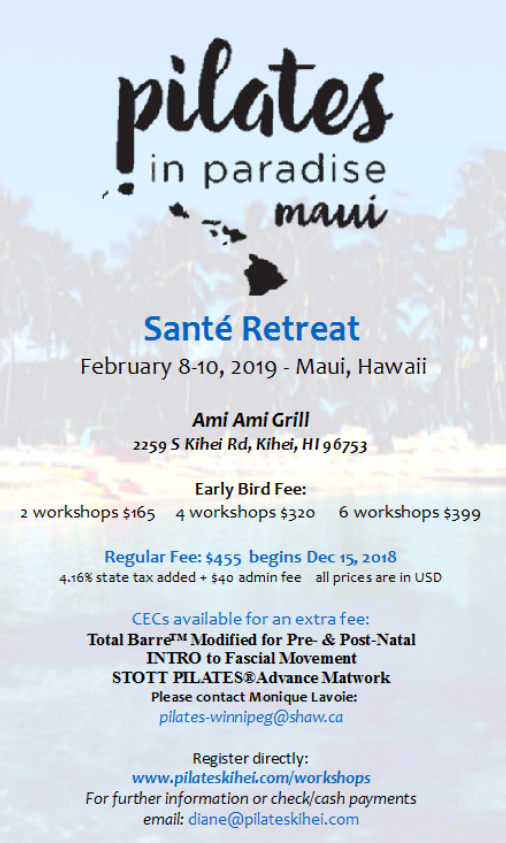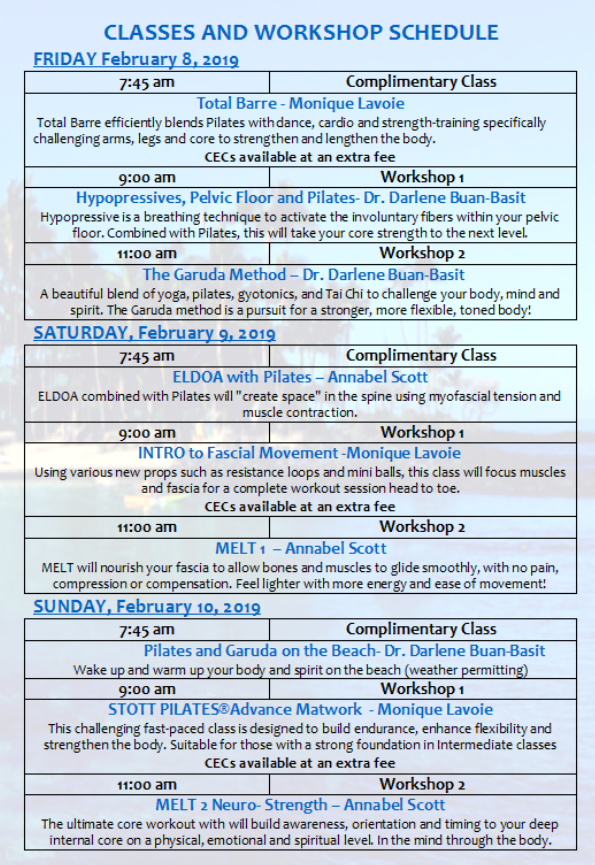 For any questions, please email
Darlene Buan-Basit: chiropracticpilates@rogers.com or Diane Gillis: diane@pilateskihei.com