Description
Please Join us at Tamarindo as we invite Pilar Cabrera to our Guest Chef Series.
We start with her book signing on Wednesday April 6 and amazing Oaxacan 5 course Oaxacan meal on the following Sunday April 10th. Please view info below for details.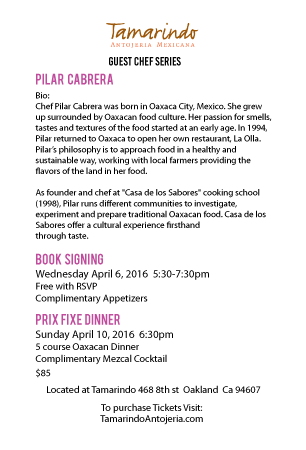 Bio:
Chef Pilar Cabrera was born in Oaxaca City, Mexico. She grew up surrounded by Oaxacan food culture. Her passion for smells, tastes and textures of the food started at an early age. In 1994, Pilar returned to Oaxaca to open her own restaurant, La Olla. Pilar's philosophy is to approach food in a healthy and sustainable way, working with local farmers providing the flavors of the land in her food.
As founder and chef at "Casa de los Sabores" cooking school (1998), Pilar runs different communities to investigate, experiment and prepare traditional Oaxacan food. Casa de los Sabores offer a cultural experience firsthand through taste.