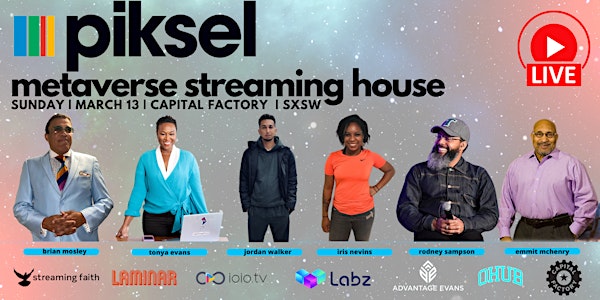 Piksel Metaverse Streaming House @ SXSW
RSVP to attend Piksel Tech Metaverse Streaming House experiences at SXSW and receive a free 30-day access to our content asset mgmt software
When and where
Location
Capital Factory | Voltron Room 701 Brazos Street Austin, TX 78701
About this event
Join Piksel Technology Corporation at SXSW for their official "Piksel Metaverse Streaming House" at SXSW on Sunday, March 13th, 2022, at Capital Factory, the largest technology startup hub in Texas. As pioneers in the delivery of digital media management systems, live streaming, library [video on demand] and linear playout [24/7] technologies and beyond - Piksel Tech and their key partners will engage their guests throughout the day in a live interactive and engaging 24/7 streaming experience combined with hot topics, hip beats & Austin treats. Content is king. Distribution is emperor. Piksel is liberator. Powered in part by Streaming Faith, Lamin.ar, The Labz, Advantage Evans, iOiO and OHUB.
All registrants will receive a 30 day free trial of Piksel's Digital Enterprise streaming software platform.
10.00 A - Streaming Faith Live Worship Experience featuring Dr. Brian Mosley
12.30 P - Fireside chats and product demos w/ Farah Allen, Founder, The Labz + Raheel Khursheed, Cofounder, Laminar + ioio
Featured libration: Mimosas
02.00 P - ecosystemTV Launch Day Party and fireside chats w/ OHUB + Capital Factory featuring Emmit McHenry, Innovator of TCP/IP & .com; Cofounder, Network Solutions and Cofounder, Cycurion; Dave Parker, Founder & Author, Trajectory Series & Senior Partner, Fearless Fund; and Jordan Walker, Cofounder, Yac
Featured libation: Margaritas
04.00 P - Metaverse & Merlot w/ Advantage Evans Academy + Black NFT Art featuring Tonya Evans, Founder, Advantage Evans Academy & Iris Nevins, Founder, Umba Daima
Featured libration: Merlot
Afterparty immediately following w/ DJ Ricoveli
The Piksel Technology Team will be onsite for 1:1 meetings with media companies, production companies, corporations and churches that want to demo & experience our live, linear and library streaming software and infrastructure. Please use this Calendly to reserve time with our team.
While participating in events held or sponsored by Piksel Technology Corporation and its affiliates, Streaming Faith, Piksel Americas, Piksel France and Kewego Espana ("Piksel"), consistent with CDC guidelines, participants are encouraged to practice hand hygiene, "social distancing" and wear face coverings to reduce the risks of exposure to COVID-19. Because COVID-19 is extremely contagious and is spread mainly from person-to-person contact, Piksel has put in place preventative measures to reduce the spread of COVID-19. However, Piksel cannot guarantee that its participants, volunteers, partners, or others in attendance will not become infected with COVID-19.
Proof of vaccine or negative COVID-19 test within 48 hours required for entry.
BY ATTENDING AND/OR PARTICIPATING IN THE ACTIVITY, YOU ARE DEEMED TO HAVE GIVEN A FULL RELEASE OF LIABILITY TO THE RELEASED PARTIES TO THE FULLEST EXTENT PERMITTED BY LAW.