Pikes Peak April Food Swap

Sunday, April 28, 2013 from 2:00 PM to 4:00 PM (MDT)
Event Details
Join us for the Pikes Peak April food swap!
Come to Tabor Mountain Bakehouse's new location at 2pm with five or more of your amazing homemade, homegrown or homebrewed goods that you are prepared to part with - they can be all the same thing or a mix. 
You will have a chance to check out the products that other attendees have brought to swap, let them know you are interested in trading for their goodies by signing up on their bid sheets - and then the trading begins!  You can see who wants your amazing soup/jam/cookies/home brew and decide if it's worth trading for their excellent compote/bread/infused oil/home-laid eggs.
You don't have to take anything you don't want and you definitely do not have to spend any money - cash is strictly forbidden.
You do have to come expecting a fun time. Samples are nice too!  
The only rule concerning what you bring to swap is that it must be homemade - if it's organic, gluten-free,vegan, low-sugar etc. that's great - just make sure you label it accordingly so you can easily find like-dieting people to swap with.
Tabor Mountain Bakehouse provides a full allergy-friendly product line, combined with education & support to those living with food allergies & intolerances. You will love their deliciou, gluten-free dairy-free and refined sugar-free products, using locally-sourced, seasonal ingredients whenever possible. They also offer 1:1 cooking classes & nutrition coaching, shopping & meal planning, small group classes & seminars.
We will collect homegrown produce and commercially prepared non-perishable items to donate to a local food pantry at the swap - so bring an extra something along.
Visit our FAQ page for more info on how this all goes down.
Simple goodness!
When & Where

Tabor Mountain Bakehouse
1015 West Colorado Avenue
Colorado Springs, CO 80904


Sunday, April 28, 2013 from 2:00 PM to 4:00 PM (MDT)
Add to my calendar
Organizer
Mile High Swappers
Food swaps are a great way to share amazing homemade/homegrown food and drinks while having an excellent time with like-minded people in our community.

It's fun and easy - you bring a few of your homemade items to swap and you bring home the same number of other people's homemade goodies. A great way to show off your skills and fill your pantry with excellent yumminess.
Find out more at www.milehighswappers.com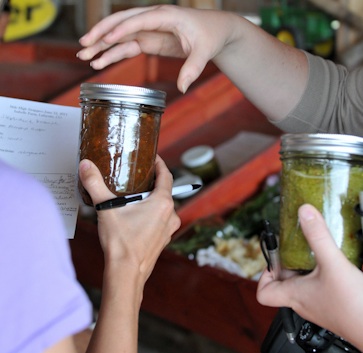 Pikes Peak April Food Swap