Description
Football...love it or learn it!
Ever wondered what all the fuss is about on Sundays? Fantasy points are...? A hail mary is what?
Join FestiGals for a Cocktails & Conversations event Pigskins, Pearls & PartyGals - Football 101 on Wednesday October 18th 6-8pm at Manning's New Orleans (upstairs) near Harrah's Hotel & Casino. Enjoy a crash football course for women by the legendary Mike Hoss, former long-time WWL-TV Anchor and owner of Hoss Communications, and WWL-TV Sports Reporter Leslie Spoon. Learn the basics and a few hints to up YOUR game at the Dome this season. WHO DAT!
Ticket Includes: Complimentary light bites, two drink tickets and FREE parking courtesy of Harrah's (in the Harrah's parking garage - entrance located on Convention Center Blvd).
Mike was born and raised in the Commonwealth of Virginia (there will be a quiz and gift later on this) but after attending James Madison University on a golf scholarship, Mike determined he would be a very poor professional golfer and utilized his communications degree to enter the world of TV Broadcasting. In 1989, he luckily landed a job at WWL in New Orleans where he had never been before. In 28 plus years, Mike occupied about every desk and worked every shift in the newsroom. Twice, he served as the interim News Director and made one official hire during his terms and proudly it was Leslie Spoon to anchor weekend sports. He says, I'm 1-0 on hires and I'm done. In March, Mike created a storytelling, video marketing company called Hoss Communications. He tells real video feature stories about your company, school, non-profit, whatever you have for websites and social media. He is happily married to his wife Betty-Ann for nearly 23 years and they have two teenage daughters (pray for him) Allison a freshman at LSU and Katie a sophomore at De La Salle.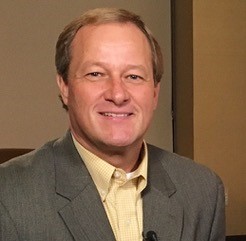 Leslie Spoon was an all-state basketball player from Benton, Louisiana and played basketball at Georgia Southern University. She got into broadcasting to continue to stay involved with sports. Leslie started at KTBS in Shreveport as a sports anchor/reporter for four years. Then spent the next three years shivering in Green Bay, Wisconsin at WFRV. She jumped at the opportunity to come home to New Orleans at WWL-TV, where she has been for over two years.