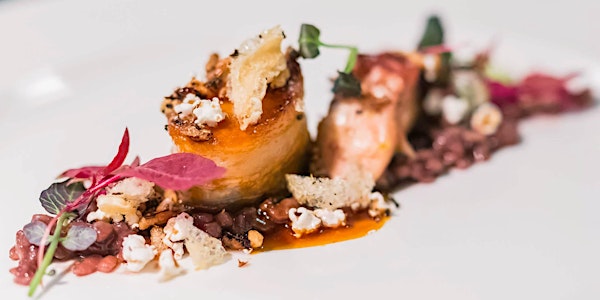 Pigs & Pinot 2023 | Tickets
Chef Charlie Palmer brings together culinary and wine elites from around the country to participate in Pigs & Pinot weekend.
When and where
Location
Hotel Healdsburg 25 Matheson Street Healdsburg, CA 95448
About this event
16th Annual Pigs & Pinot
On Friday, March 17 and Saturday, March 18, Chef Charlie Palmer will bring together culinary and wine elites from around the country to participate in the 16th Annual Pigs & Pinot weekend. Held at the award-winning Hotel Healdsburg and Dry Creek Kitchen this celebration has become a tradition among pork and wine enthusiasts eager to experience the creations of over 60 wineries and 20 chefs who showcase their talents each year. All net proceeds from the Pigs & Pinot benefit Farm to Pantry , as well as local scholarships and charities.
Participating Chefs
Maneet Chauhan (Celebrity Chef, Founding Partner and President of Morph Hospitality Group), Dean Fearing (Chef/Owner, Fearing's Restaurant), Louis Tikaram (Head Chef/Partner, Stanley Restaurant - Brisbane, AY) and Bryan Voltaggio (Chef/Owner Thatcher & Rye).
Taste and Gala Guest Wineries
Anne Moller-Racke (Owner, Blue Farm Wines), Andii Ulrich (Portfolio Specialist/Winebow Imports, Dalrymple Vineyards Tasmania, AU), Robert Zeches & Chad Richard (Co-Owners, Furthermore Wines), Tom Rochioli (Winemaker, Rochioli), and Mick Schroeter (Winemaker, Sonoma Cutrer).
Taste of Pigs and Pinot
Friday evening's festival kickoff is the lively Taste of Pigs & Pinot where guests sample 60 highly-acclaimed Pinot Noir wines competing in the Pinot Cup competition, both from Sonoma County and around the world. Two Rosé wines will be offered in addition to the lineup of 60 Pinot Noirs treating guests to a "white wine" twist on Pinot Noir. Tastings are served alongside a variety of pork dishes, including homemade sausages, charcuterie, grilled pork, patés and other special creations from Chef Palmer, Dry Creek Kitchen, guest celebrity chefs, and local Healdsburg restaurants including Barndiva, Spoonbar, and Valette.
Pinot Cup
The Pinot Cup is our annual wine competition where 60 hand-picked Pinot Noirs compete in a blind-tasting competition in hopes to be named "the best of the best" by a renowned judging panel including Sarah Doyle, Wine and Spirits Journalist at The Press Democrat and Sonoma Magazine, Debbie Zachareas, Partner at Ferry Plaza Wine Merchant and David Yoshida, Master Sommelier and last year's Ultimate Pinot Smackdown Champion. The winner and runner-up will be revealed at Friday's Taste of Pigs & Pinot event.
Seminars
On Saturday afternoon, Pigs & Pinot participants can attend two seminars: Tournament of The Pig where four guest chefs will divide into two teams to prepare the best pork-inspired dishes. This iron-chef style competition will be hosted by Charlie Palmer and Mario Cantone; and "The Ultimate Pinot Smackdown" led by Master Sommeliers, Keith Goldston, Michael Jordan, June Rodil, and David Yoshida.
Spoonbar's Swine and Wine Dinner
Saturday evening's Swine & Wine dinner will begin with a welcome reception on The Rooftop at h2hotel's sister hotel, Harmon Guest House. Guests will drink in views of Fitch Mountain, the Sonoma hills, and downtown Healdsburg while sipping on a signature Pigs & Pinot-inspired cocktail or glass of sparkling wine.
Then guests will head down to Spoonbar as Chef Thomas Mulligan and Chef Francisco Alveraz (Pancho) prepare a multi-course menu of light and modern dishes highlighting the beauty and simplicity of seasonal produce and pork.  The menu will showcase four of Sonoma County's New Kids on the Pinot Noir Block producers, including Annadel Estate Winery and Palmeri Wines. Dinner will be hosted by Spreti Valente.
After dinner, guests are invited to continue the party at Hotel Healdsburg for after-dinner drinks and sweets.
Gala Dinner
Saturday evening's Pigs & Pinot Gala features a sumptuous five-course dinner at Hotel Healdsburg's Dry Creek Kitchen. As a collaborative offering, each course features a signature creation from Palmer and his guest chefs including: Maneet Chauhan, Dean Fearing, Louis Tikaram and Bryan Voltaggio.
Every course will be paired with two limited-production Pinot Noirs from highly acclaimed wineries including Blue Farm Wines, Dalrymple Vineyards, Furthermore Wines, Rochioli, and Sonoma Cutrer.