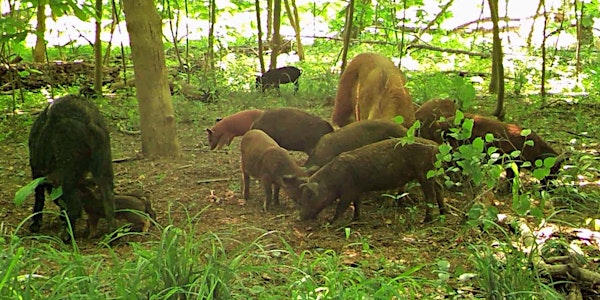 Pigs in the Park: Congaree Natn'l Park Feral Hog Management Program Update
When and where
Location
Tri-County Electric Cooperative, 6437 Old State Road, St. Matthews
Description
Pigs in the Park
Congaree National Park Feral Hog Management Program Update
Pig Pickin' Sponsored by Richland and Calhoun County Farm Bureaus and the SC Farm Bureau Federation
Thursday, November 17, 2016
9am-2pm
Tri-County Electric Cooperative
6437 Old State Rd., St. Matthews

This event is free with lunch provided, but registration is required. Register online OR RSVP to Charlie Fisher at (803) 576-2080 or fisherc@rcgov.us.
Sessions include:

Congaree National Park Hog Control Program Update: Year One Results

Feral Hog Biology
Economic, Ecological, and Health Impacts
Distribution, Harvest Trends, and Regulations
Manage the Damage: Hog Control Techniques and Trapping Demonstration
This event is sponsored by Congaree National Park, USDA-APHIS, SC-DNR, Clemson Cooperative Extension, Richland and Calhoun County Farm Bureaus, the SC Farm Bureau Federation, Friends of Congaree Swamp, Eastern National, and the Richland and Calhoun Soil and Water Conservation Districts.