Event Information
Location
Piedmont Veterans Hall
401 Highland Ave
Piedmont, CA 95611
Description
Join us for the 7th Annual Poker Night Plus Casino Fundraiser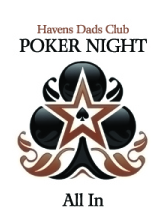 Bring your plus one to Vet Hall
Year Lucky 7 will top them all
Aces Assalian and Jackpot James
welcome two, to a night of games
While DJ Hiller entertains!

This fantastic night out is the Havens Dads' Club's signature fundraiser. This year will feature both the classic Texas Hold'em tournament AND additional Casino games with prizes! All proceeds benefit the kids!
We will also have fabulous raffle prizes, cocktails, snacks, and super friendly dealers that love to teach the games! Once again the Championship Bracelet will go to the overall tournament winner. Music, dancing, and Casino fun for all to the end of the night.
Friday, January 9th (6:30pm-11pm)
Piedmont Veterans Hall - 401 Highland Ave
When: Friday, January 9, 2015 from 6:30 PM to 11:00 PM (PST)
Location: Veterans Hall, 401 Highland Avenue (between Magnolia and Vista)
Start time: 6:30 socialize, ~7:00 first hand is dealt
End time: last & winning hand at ~11:00
Dress: Casual... unless you have really good and stylish poker duds. No Ace's up your sleeve allowed
Food: Snacks and desserts provided.
Drink: HDC bottomless beer mugs plus additional beverages served by Queens of Poker.
Raffle & Auction: We will raffle off a position at the final table and have some fantastic silent auction items - tickets are available at the event for purchase.

Remember... it's for the kids!
Date and time
Location
Piedmont Veterans Hall
401 Highland Ave
Piedmont, CA 95611