Piedmont Regional Goat & Sheep Conference Webinar Series
An informative webinar series for beginner and advanced alike with a focus on sheep and goat management.
About this event
Join us online from the comfort of your home as we take our originally planned conference schedule and move it to a webinar series! The series will take place on Tuesday evenings starting at 6:30 p.m. and will feature the speakers and topics from our conference (the only session that will not be held will be the shearing demo, we will move that to 2021). You can choose to register for one or multiple sessions. The entire webinar series is FREE!
Webinar Schedule (Tuesdays at 6:30 p.m.):
April 21: Small Ruminant First Aid & Being Prepared for Lambing or Kidding Season
April 28: Livestock Guardian Animals
May 5: Hoof Health (including hoof trimming)
May 12: Grazing Management to Promote Small Ruminant Health
About Zoom (Online Platform Being Used):
This webinar series will be delivered through Zoom, which is an online video communications platform that is free for users. You can download the free app to your phone or you can join by computer. If you cannot join by smart phone or computer, you can call in and listen from any phone.
Once registered, you will be provided with the information needed to join the webinar session(s).
Questions? Contact Lauren Langley at 336.266.0702 or lauren_langley@ncsu.edu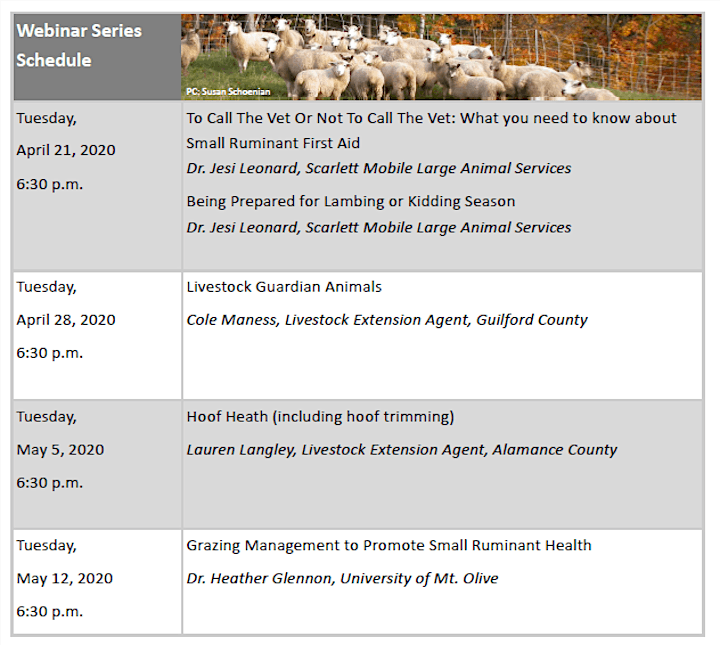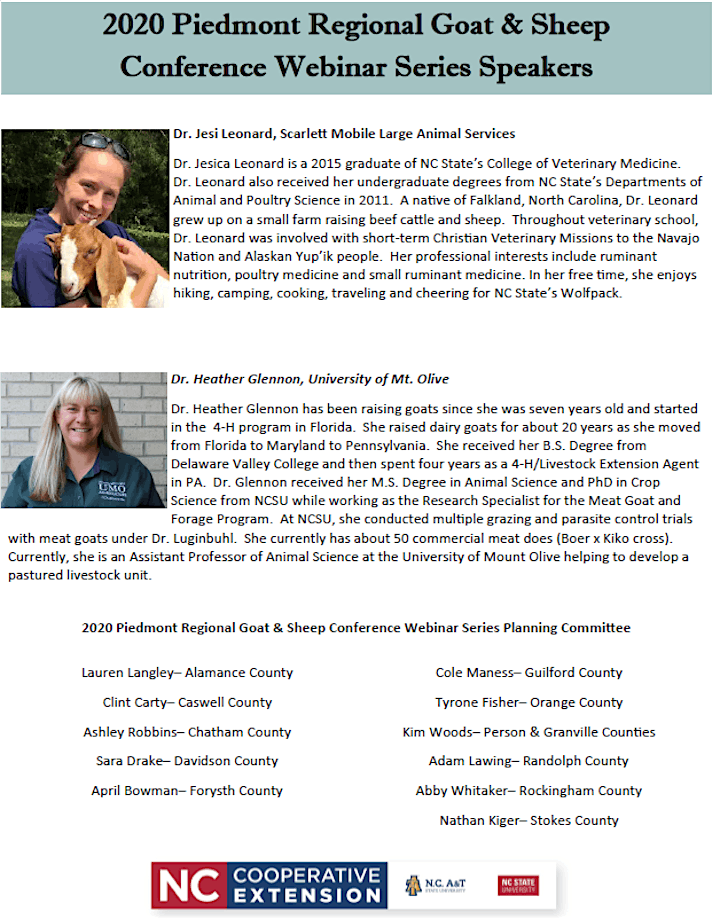 Organizer of Piedmont Regional Goat & Sheep Conference Webinar Series
---
NC State University and N.C. A&T State University work in tandem, along with federal, state and local governments, to form a strategic partnership called N.C. Cooperative Extension, which staffs local offices in all 100 counties and with the Eastern Band of Cherokee Indians.
Read our Privacy Statement
N.C. Cooperative Extension prohibits discrimination and harassment on the basis of race, color, national origin, age, sex (including pregnancy), disability, religion, sexual orientation, gender identity, and veteran status.
Individuals with disabilities are invited to request reasonable accommodations to participate in Extension sponsored programs and events. Please contact the county Extension office offering the program at least 14 days prior to the event to make arrangements.