Piedmont Makerspace - Wearables/E-Textiles!

Saturday, April 25, 2015 from 12:00 PM to 3:00 PM (PDT)
Event Details
Piedmont K-12 students (& parents) are invited to the Piedmont Makerspace on Saturday 4/25 12-3pm to make wearables!  Wearables (or e-textiles) combine fabric and electronics to make cool gear.  
Open Make: We will do an Open Make to learn how to sew and integrate circuits. If you have a piece of wearable fashion that you made, a fashion show will occur at around 2:30pm, so get ready to strut your stuff!  We will have a limited quantity of Wearables kits available to purchase in advance so you can take one home. Please order by Tuesday, April 20 so we can have them shipped in time.
STEM/Science/Mini Maker Faire projects: For the upcoming Science/STEM Fairs and Mini Maker Faire, Science teachers Mrs. Broback from Beach, Mr. Taylor from Havens, and Ms. Tokunaga from Wildwood along with parent mentors will be on hand to help with projects and answer questions.
The event is sponsored by Piedmont Makers - an Associated Parent Clubs of Piedmont support group dedicated to Promote & Inspire K-12 STEAM education in Piedmont Unified School District.  We also have Piedmont Makers T-Shirts for sale (American Apparel Tri-Blend design) so please consider a donation to help fund S.T.E.A.M. education in Piedmont and get a T-Shirt!
What's a Makerspace?  A new community space to promote S.T.E.A.M. (Science, Technology, Engineering and Math + Design) education for Piedmont students.  A Makerspace is project-driven: for Class, for Science Fair, for the Piedmont Mini Maker Faire, or for fun!  A Makerspace is staffed with expert mentors - either teachers, parents, or high school students.
Where is the Piedmont Middle School shop?  Take the stairs down from Magnolia to the main plaza, go left towards the district office and take stairs down to the parking lot. It will be on your right (purple arrow below).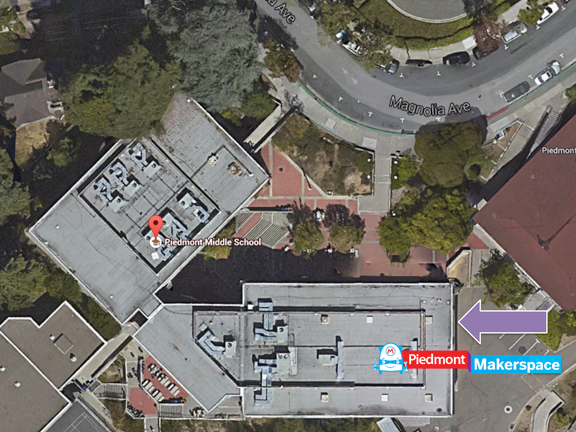 Other questions?  Email piedmontmakers@gmail.com
When & Where

Piedmont Middle School
740 Magnolia Ave
Piedmont, CA 94611


Saturday, April 25, 2015 from 12:00 PM to 3:00 PM (PDT)
Add to my calendar