Location
Piedmont Middle School
740 Magnolia Ave
Piedmont, CA 94611
Description
Piedmont K-12 students (& parents) are invited to the Piedmont Makerspace "Make a Rocket!" day on Saturday 2/28 12-3pm.
We will have a limited quantity of Estes Model Rocket kits available for those who purchase in advance. We will do an Open Make building paper rockets to launch with compressed air or model rockets to launch at Moffett Field later in March.
For the upcoming Science Fairs and Mini Maker Faire, Science teachers Mrs. Broback from Beach, Mr. Taylor from Havens, and Ms. Tokunaga from Wildwood along with parent mentors will be on hand to help brainstorm and prototype ideas, and answer questions.
What's a Makerspace? A new community space to promote S.T.E.A.M. (Science, Technology, Engineering and Math + Design) education for Piedmont students. A Makerspace is project-driven: for Class, for Science Fair, for the Piedmont Mini Maker Faire, or for fun! A Makerspace is staffed with expert mentors - either teachers, parents, or high school students.
The event is sponsored by Piedmont Makers -- an Associated Parent Clubs of Piedmont sponsored group dedicated to Promote & Inspire K-12 STEAM education in Piedmont Unified School District.
Please consider a donation to help pay for materials for future Makerspace events!
Where is the Piedmont Middle School shop?
Take the stairs down from Magnolia to the main plaza, go left towards the district office and take stairs down to the parking lot. It will be on your right (purple arrow below).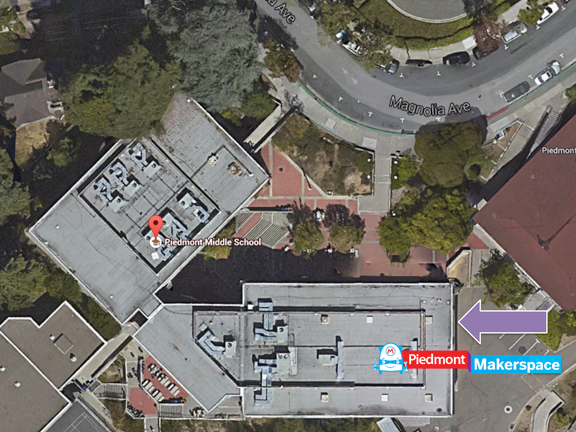 Other questions? Email piedmontmakers@gmail.com