Event Information
Location
Piedmont Middle School
740 Magnolia Ave
Piedmont, CA 94611
Description
Piedmont K-12 students (& parents) are invited to the Piedmont Makerspace Design a Project day! We will do a design thinking exercise to get everyone brainstorming about project ideas for the upcoming Piedmont Mini Maker Faire (or Science Fair or other school project). We will have plenty of materials on-hand for rapid prototyping as well as project inspiration (books, magazines, community makers). Sign up your project idea for the Mini Maker Faire and take home your prototype!
What's a Makerspace? A new community space to promote S.T.E.A.M. (Science, Technology, Engineering and Math + Design) education for Piedmont students. A Makerspace is project-driven: for Class, for Science Fair, for the Piedmont Mini Maker Faire, or for fun! A Makerspace is staffed with expert mentors - either parents or high school students.
What's a Prototype? A first draft of a project. Use paper, cardboard, tape, rubber bands, popsicle sticks, pipe cleaners, color dots, paper clips, staplers, string, whatever to try out an idea and get feedback to improve the next version. Prototyping is fundamental to design thinking.
The event is sponsored by Piedmont Makers -- an Associated Parent Clubs of Piedmont sponsored group dedicated to Promote & Inspire K-12 STEAM education in Piedmont Unified School District.
Please consider a donation to help pay for materials for future Makerspace events!
Where is the Piedmont Middle School shop?
Take the stairs down from Magnolia to the main plaza, go left towards the district office and take stairs down to the parking lot. It will be on your right (purple arrow below).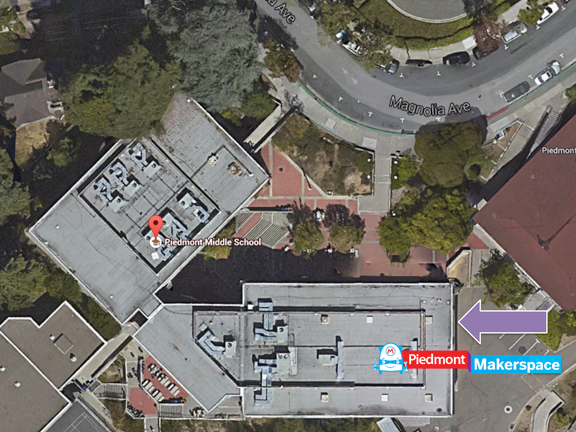 What do I need to bring?
Just your ideas!
Other questions? Email piedmontmakers@gmail.com
Date and time
Location
Piedmont Middle School
740 Magnolia Ave
Piedmont, CA 94611