The Gathering is a 5 day, 4-night event that offers in-depth learning for individuals and families. See below for the current discount.
About this event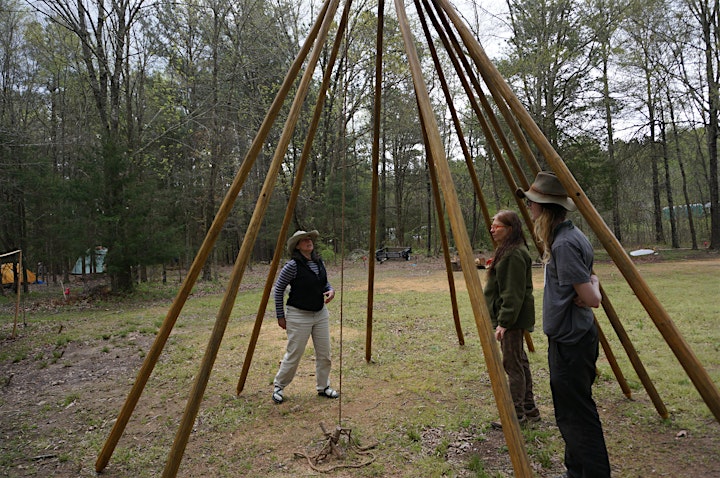 This educational/enrichment program will be focused on Primitive Living Skills and Homesteading. Top quality instructors will teach dozens of ancestral and heritage primitive skills such as matchless fire making, edible and medicinal plants, stone tool creation and use, ancient weaponry and basket making, just to name a few.
Earthskills gatherings are events where new friendships are forged, old friendships refined, and the empowering knowledge of pioneer, survival, native and traditional primitive skills are shared. These programs give participants the opportunity to become proficient in skills that have helped them redefine life goals and directions as well as broaden their knowledge of sustainable life ways, connection to nature, and the power of community. After a full day of hands-on instruction, evening programs give us the opportunity to join in the revival of the great oral tradition of storytelling around the council fire, or the option to pull up a chair at any one of the camps where homegrown and traditional Appalachian music is played, or the opportunity to answer the call of the drum and dance around the fire under a star-filled sky.
Complimentary breakfast and dinner is offered every day.
Tickets will be available, daily, at the gate. Gate prices are below.
Online ticket sales have ended but we'd like to know if you're coming! Select the Green tickets button and choose LET US KNOW YOU'RE COMING. This is not a Free ticket.
A link to the current schedule is below.
http://www.piedmontearthskillsgathering.com/classes-for-2019/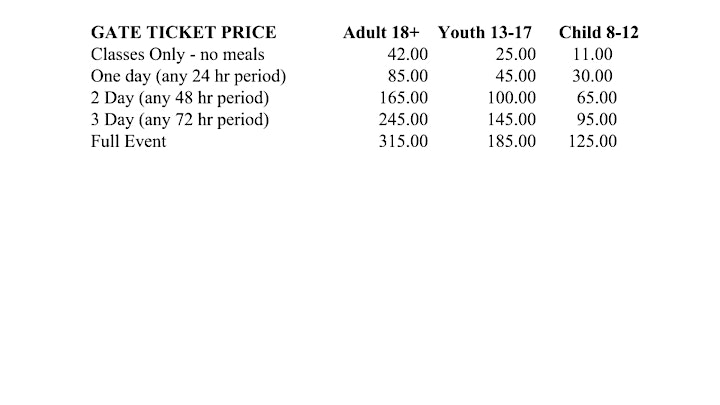 CURRENT DISCOUNT:
In advance, online discounts have ended. If you want to be notified when 2020 tickets go on sale, join our email list at regpeg19@gmail.com
We need your help.
Eventbrite fees will likely be in excess of $1000. We have chosen to absorb these fees instead of passing them on to you. However, if you'd like to help off-set this cost, please consider making a small contribution before checking out. Just $5 will help take a bite out of these fees. Look for the $5 Donate button. Average fees are $8-$12 per ticket. You can enter any amount you like.
Full Refunds are available until March 20, 2019, and subject to a $25 processing fee for each adult ticket. Full and Part-time Work Trade registrations are not eligible for refunds. Refund requests received after March 20, 2019, but no later than April 10, 2019 will be subject to review. Requests should be emailed to regpeg19@gmail.com. Requests will be responded to within 5 days.
DOG POLICY
At any earthskills event, we like to welcome the well-behaved canine companions of our participants, instructors, staff, and worktraders. We know these animals are important members of your family, so we like to make space for them. Still, please keep in mind that having your pet attend the event with you is a privilege. If you and your dog are unable or unwilling to abide by our doggie rules, you may be asked to remove your dog from the premises.
DOGGIE RULES
-LEASH + YOU. Please have your dog on a leash at all times. The other end of the leash is attached to a person. (Or attached to a tree near their owner.) Please stay with your dog. No dogs wandering around without their people.
-NOISE. Howling dogs are not acceptable. Especially no howling dogs left alone in camp for hours, please. It is really unpleasant for your neighbors, and probably for your dog as well. If your dog is a howler, maybe an Earthskills Gathering isn't the place to bring it.
-AGGRESSION. Limit dog on dog aggression and a dog on person attack is completely unacceptable! If your dog is aggressive, please be vigilant and proactive to prevent any drama, or do not bring your dog.
-POOP. Pick up any dog poop you encounter, even if you don't think it belongs to your dog. Clean grass for all our barefoot folks and their hand-made things. Bring bags to capture, contain, and dispose of your pet's excrement promptly. Right after the poop hits the ground, you should be bagging it.
COMPLAINTS
If your dog is bothering someone, we encourage them to come talk to you and try to resolve the issue. So please be open to people approaching you to discuss your dog's behavior.
If someone's dog's behavior is bothering you, please gently and respectfully approach the dog owner and let them know how you would like to see things change. Help them help you. If that fails or if you feel uncomfortable approaching that person, then please report dog issues to the Event Coordinator.
3 STRIKES POLICY
STRIKE 1 - The owner gets a warning to reel their dog in. Event participants have complained about your dog's behavior. Please take action to correct this behavior.
STRIKE 2 - The owner gets informed that their dog is continuing to cause issues. This is your last chance to correct your canine companions behavior. If we have to ask again, we'll ask you to remove your dog from the event site.
STRIKE 3 - The owner gets asked to remove their dog from the event site now. The person can stay, but the dog cannot. There are several local dog boarding options in the Pittsboro, NC area. The owner is responsible for all costs incurred for boarding their pet offsite.
Organizer of Piedmont Earthskills Gathering 2019
Mission Statement
The mission of the Piedmont Earthskills Gathering is to provide a learning experience which empowers people through the development of skills and inspires a deep appreciation of inter-connectedness, cultural heritage, and ecological respect.  
Goals
To increase the appreciation of the lives and skills of our ancestors, all of our ancestors, whether they came from the plains of Africa or the caves of Europe, or anywhere else across the globe.

To instill a greater appreciation of the natural world upon which we all depend

To expand knowledge of Piedmont flora and fauna

To inspire an ethic of caretaking towards the natural world

To cultigvate the qualities that suppport community building which include an attitude of service, a sense of gratitude, tolerance for diversity, the ability to listen actively and speak plainly, personal responsibility and a belief in the value of peacemaking

To inspire discovery of the interconnectedness of the natural world and one's individual inner spirit, and the growth of personal virtues