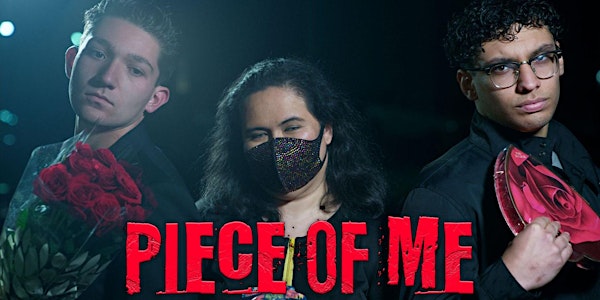 Piece of Me Ep 1-3 Online Screening and Halloween Benefit for Shade Tree
Join us anywhere in the world for a one-time only online screening of the first three episodes of our murder mystery web series Piece of Me!
About this event
About the series: Lisa, a paranoid young woman who takes social distancing to the extreme, is being stalked by an obsessive pizza delivery driver while under quarantine at her apartment and must figure out a way to escape from him, even if it ends up in murder.
Starring Darlene Dalmaceda as Lisa, Benjamin Rodriguez as James, Mikey D'Orsi as Jimmy, Jessie Lee Pauli as Avery, Catherine Natale as Susan, and Rob Lee as Doug.
Direction and cinematography by Felix Escobar, R. Moises Garcia, and Nicholas Grant.
We are also donating a portion of whatever proceeds we raise from now until the night of the event toward The Shade Tree of Las Vegas, a 501c(3) non-profit organization that assists survivors of Domestic Violence, sexual abuse, human trafficking, and homelessness, their families, and pets. October is Domestic Violence Awareness Month and we want to give back to those who survived horrific trauma toward a better path in life.
Donations for the event can be made here: http://www.buymeacoffee.com/ACEVegasStudios
The remaining donations will go toward releasing Episodes 4-6 on IFT Network, which is where our series is streaming exclusively. Try it out for free for 30 days by signing up here: https://www.iftnetwork.com/piece-of-me
Halloween costumes are not required, but strongly encouraged!
Looking forward to seeing you there! Thanks for your support of our project and The Shade Tree!
For more info about The Shade Tree, please click here: http://www.theshadetree.org