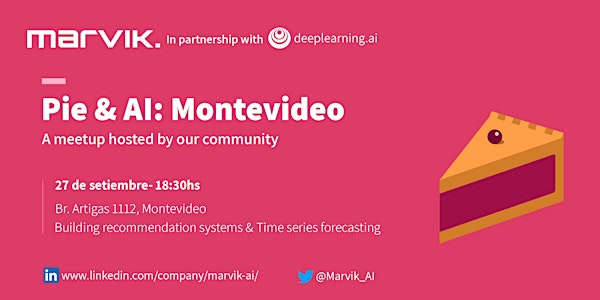 Pie&AI: Montevideo - Recommendation Systems & Times Series Forecasting
The event will cover the topics of Building Recommendation Systems & Times Series Forecasting.
About this event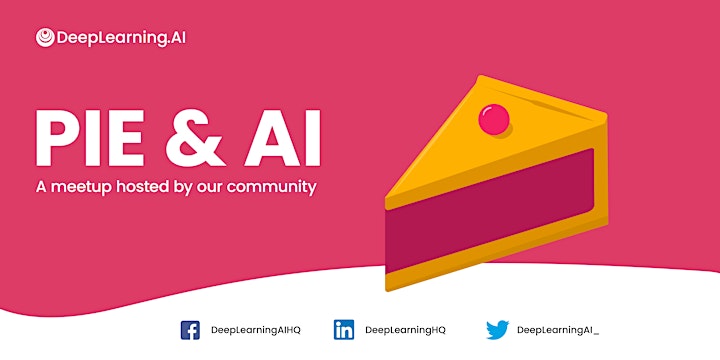 Pie & AI is a series of DeepLearning.AI meetups independently hosted by community groups. This event is hosted by event ambassador Marvik. Special thanks to their support!
We will cover the concept of time series forecasting, how to choose the right models and what is the state of the art in the field. We will also cover the topic of recommendation systems and how to effectively build them.
Event Agenda & Speakers:
18:30 - Event Starts
18:45 - Time Series Forecasting - Leonardo de los Santos
19:30 - Building Recommendation Systems - Cesar Reyes
Content
• Time Series Forecasting
Speaker: Leonardo de los Santos
Summary: What is a time series? How do I choose the right model(s)? What preprocessing needs to be done and what things need to be taken into account? What is the state of the art in the area?
The area of time series forecasting is an area that is constantly growing. Predicting the probability of an event over time can have a considerable impact that spans a very broad spectrum of disciplines. But like everything, it has an associated cost. As the information used becomes more complex, data analysis and modeling tend to become more complex at the same time, making it challenging to decide which way to go. Also, the amount of information pertaining to the area can become overwhelming, and it can be confusing where to start.
The idea of the talk is to concentrate a series of concepts and resources, both to start diving into the area, as well as to reinforce previous knowledge and organize ideas. We will try to answer the questions raised above progressively, going through statistical models, reaching more recent models belonging to the area of Deep Learning.
• Building Recommendation Systems
Speaker: César Reyes.
Summary: Every year a huge amount of new content is created on the internet and users interact with it, finding the more suitable and affine to their needs given a context, but the task could be very hard if you try it from scratch. In this context tech companies use the power recommendation system to build solutions that help users to have personalized experience in their digital journey. However, recommendation systems are not only recommendation models, it's a complex field that has many components that need to be considered to build real RecSys.
For beginner and intermediate learners
Language: Spanish
How to join the event online:
This event will be on streamed on Youtube. Please check your ticket confirmation email (scroll down to the bottom) for access URL.
Course Promo Code
After the event, we will provide a limited number of promotional code for attendees who complete a post-event survey sent by DeepLearning.AI. With this promo code, learners can avail 50% off the first month subscription for any DeepLearning.AI course on Coursera. You can check out a full list of courses here.
About Pie & AI: Pie & AI is a series of DeepLearning.AI meetups independently hosted by our global AI community. Events typically include conversations with leaders in the world, thought-provoking discussions, networking opportunities with your fellow learners, hands-on project practice, and pies (or other desserts you prefer.)
If you are interested in hosting a local Pie & AI event for us in other cities and becoming one of our global ambassadors, send us a note at events@deeplearning.ai!