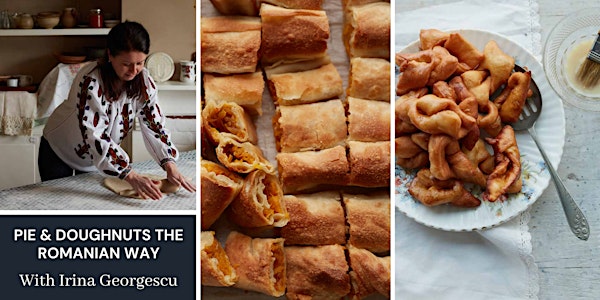 Pie & Doughnuts the Romanian Way with Irina Georgescu
Join Friend of Milk Street Irina Georgescu to teach you two recipes that are inspired by classic fall flavors using techniques from Romania.
Refund Policy
Contact the organizer to request a refund.
About this event
NOTE: iphone and ipad users, CLICK HERE to register for class.
What's on the Menu
Plăcintă cu dovleac (Pumpkin phyllo pies)
Minciunele (Rum-glazed sour cream doughnuts)
If you think there's nothing new to learn about pumpkin pie and doughnuts, think again. Friend of Milk Street Irina Georgescu is here to teach you two recipes that are inspired by classic fall flavors using techniques from her homeland of Romania. First up are plăcintă cu dovleac, a pumpkin-filled phyllo pie. Inspired by Irina's latest book, "Tava, Eastern European Baking from Romania and Beyond," the pumpkin pie is a spin on her grandmother's strudel recipe. You will learn a new way to roll your pastry, which can be store-bought or homemade. The techniques for this dish can be adapted to nearly any seasonal fruit, and Irina will walk you through favorite alternatives and adaptations. With our phyllo pies in the oven, we'll whip up a batch of minciunele, which take less time than you'd spend going to a favorite doughnut shop. The secret ingredient in these doughnuts is sour cream, which gives them a tender, luxurious texture and also imitates the flavor complexity of a yeasted doughnut—but without all that time spent waiting around. Irina will teach you how to achieve the traditional shape for minciunele, which involve a slice, fold and twist that you'll be able to execute perfectly by the end of class. To take these doughnuts to the next level, we'll finish them with a rum icing glaze. Fragrant and sweet, both of these treats are a joy to make and eat. Both recipes will give you a glimpse into the world of baking and desserts in Eastern Europe.
Photographs credit to Matt Russell.
About Irina: Irina Georgescu is a UK food writer and author from Romania. Her debut cookbook is "Carpathia: Food from the Heart of Romania." Irina feels strongly about exploring the world through food, understanding people through what they eat and putting things in the context of history. It is her love for and commitment to talking about Romanian culinary traditions that made her pursue her dream and write about this heritage. Her cooking is inspired by her mother and grandmother, by her life in the busy capital city Bucharest and by her constant explorations into the history and food of her country. Whilst trying to keep close to the traditional ways of cooking, she also brings her own interpretations to these dishes. She was born in Bucharest, Romania, and now lives in the UK. More Romanian recipes on www.irinageorgescu.com
Order yourself a copy of Irina's book, "Tava: Eastern European Baking and Desserts From Romania & Beyond" Use promo code MILK2022 for 10% off your order: https://www.portersquarebooks.com/book/9781784885441
Want to give this class as a gift? You can purchase gift cards here.
Bonus: All attendees of this class will receive a one-time 15% off coupon to the Milk Street Store after class.
This event has limited spots, and you must register in advance via Eventbrite. One sign-up covers one device. Closed Captioning is available for this event.
Immediately after registering, you will get a confirmation email that contains the Zoom meeting log-in information. One week prior to class (or within 48 hours of registering, if you sign up less than a week in advance), you will receive an email with the ingredients, equipment and prep you'll need to cook along with us, if you choose.
After class, you will receive a recording of the event, as well as a folder of recipes and resources that we discuss during the event. Class recordings are available to all registered attendees for two weeks following each event.
Payments for Milk Street live stream classes are non-refundable. If you find yourself unable to attend, you may transfer the ticket to someone else, but we are unable to refund fees and all payments are final. Classes are subject to cancellation at any time. In the case of cancellation by the event organizer, all paid tickets will be fully refunded.
Proceeds from live stream cooking classes support Milk Street's non-profit work with The Big Sisters Association of Great Boston, The Boys & Girls Club of Dorchester, and other partners.
If you have any questions about this class, please don't hesitate to get in touch via cookingschool@177milkstreet.com.