Casos desenvolvidos em Inteligência Artificial para ajudar a combater a crise climática global
About this Event
How to join the event online:
This event will be on Zoom. Please check your ticket confirmation email (scroll down to the bottom) for access URL.
Course Promo Code
After the event, we will provide a limited number of promotional code for attendees who complete a post-event survey sent by DeepLearning.AI. With this promo code, learners can avail 50% off the first month subscription for any DeepLearning.AI course on Coursera. You can check out a full list of courses here.
About Pie & AI: Pie & AI is a series of DeepLearning.AI meetups independently hosted by our global AI community. Events typically include conversations with leaders in the world, thought-provoking discussions, networking opportunities with your fellow learners, hands-on project practice, and pies (or other desserts you prefer.)
If you are interested in hosting a local Pie & AI event for us in other cities and becoming one of our global ambassadors, send us a note at events@deeplearning.ai!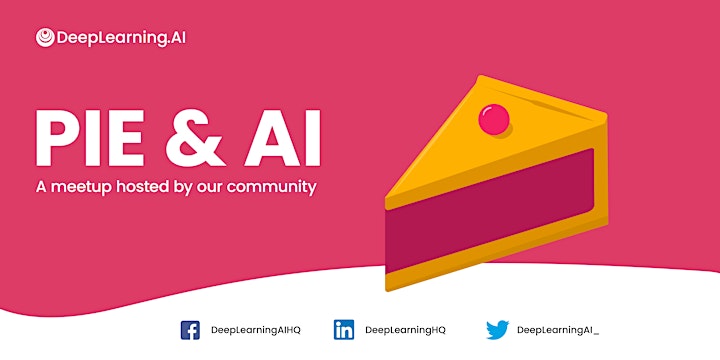 Pie & AI is a series of DeepLearning.AI meetups independently hosted by community groups. This event is hosted by event ambassador Cortex9. Special thanks to their support!
OUTLINE: The Climate Crisis is a reality in the 21st century and one of the most challenging problems of our generation. One of the most devastating consequences of climate change is extreme weather events such as cyclones and hurricanes. In this talk, I'll discuss about the potential of AI fighting the outcomes of the climate crisis as well as to help society to become greener.
In the first part, I'll walk the audience through a disaster management project carried out by our Omdena team. On the second part of the talk, I will focus on solutions to climate change and what is the role of AI in making solutions such as renewable energies and sustainable solutions to climate change possible.
This talk will touch upon several applications of AI, such as both natural language processing, computer vision and machine learning models, based on real world projects.
Event Agenda & Speakers:
18h30 Opening
18h35 DeepLearning.AI Institutional Video
18h35 lecture
19h25 Q&A
19h45 Closing
For beginners and intermediate learners