Pie & AI: Bucharest - Gender Imbalance, AI Mentorship & Good Delivery in AI
AI practitioners shed light into their experiences in AI, and give real AI context, in celebrating together Women's International Month.
About this Event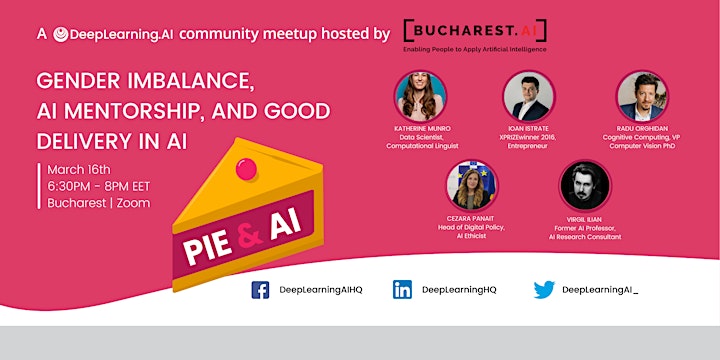 Pie & AI is a series of DeepLearning.AI meetups independently hosted by community groups. This event is hosted by Bucharest.AI, the AI & Acceleration community.
AI and social media have an impact on human rights and democracy, product managers maximize their product through AI, and Covid accelerates in-production adoption of AI to understand more.
Join three amazing speakers in finding more about their AI quests in their respective fields. Closing with an exceptional roundtable with even gender distribution panel of an XPrize winner, former AI professor, VP Cognitive Computing, Data Scientist, AI Ethicist and Senior Lecturer.
Event Agenda & Speakers:
6:00pm-6:30pm Join us & Intro
6:30pm - 7:15pm Individual Contributors
Talk 1 - "AI and social media - impact on human rights and democracy"
Talk 2 - "Using AI to maximize products, as a Product Manager"
Talk 3 - "Building AI into a covid solution"
7:15 - 8:00pm Roundtable
"Gender Imbalance, AI Mentorship, and good Delivery in AI projects"
Panelist:
For intermediate learners.
How to join the event online:
This event will be on Zoom. We will send you the online access URL before the event.
Course Promo Code
After the event, we will provide a limited number of promotional code for attendees who complete a post-event survey sent by DeepLearning.AI. With this promo code, learners can avail 50% off the first month subscription for any DeepLearning.AI course on Coursera. You can check out a full list of courses here.
About Pie & AI: Pie & AI is a series of DeepLearning.AI meetups independently hosted by our global AI community. Events typically include conversations with leaders in the world, thought-provoking discussions, networking opportunities with your fellow learners, hands-on project practice, and pies (or other desserts you prefer.)