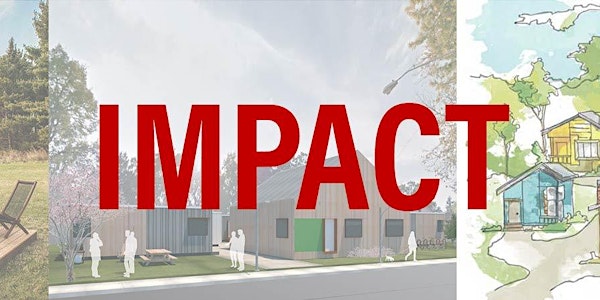 PID Institute on Tiny Home Villages
This webinar provides a holistic overview of the tiny house village, from community planning to village operations management.
About this event
There will be presentations on 4 invited projects with 6 speakers discussing their work.
Schedule:
Welcome and Introduction (15min)
Part 1: Community Participation and Planning of Tiny House Village
The Micro Housing Approach | Tom Barrie (15mins) + Roundtable Discussion (20mins)
Village Research and How-to Guide | Todd Ferry and Sergio Palleroni (15mins) + Roundtable Discussion (20mins)
Break (15mins)
Part 2: Community Assets and Development of Tiny House Village
Tiny House Villages for People with Serious Mental Illness | Thava Mahadevan and Amy Wilson (15mins) + Roundtable Discussion (20mins)
Envision Community and Sacred Settlements | Thomas Fisher (15mins) + Roundtable Discussion (20mins)
About the panelists:
Tom Barrie is a Professor at the School of Architecture and Director of Affordable Housing and Sustainable Communities Initiative at NC State University. Professor Barrie's projects and interests focus on the commitment to broadening the scope and audience of architecture through research, extension and community-based design studios in housing and urban design. His work educates future leaders of the profession while engaging the public in critical issues regarding the built environment. Professor Barrie directs the Affordable Housing and Sustainable Communities Initiative. Its mission is to provide educational resources for government, non-profit and community leaders, students, and the general public, and innovative and applicable solutions to the housing and urban challenges that North Carolina communities face.
Thomas Fisher is Professor, director of the Minnesota Design Center, and Dayton Hudson Chair in Urban Design in the College of Design at the University of Minnesota. His research has focused on sustainable architecture, design ethics, and community-based service design. Recognized in 2005 as the fifth most published writer about architecture in the United States, Fisher has written 9 books, over 50 book chapters or introductions, and over 400 articles in professional journals and major publications. Named a top-25 design educator four times by Design Intelligence, he has lectured at 36 universities and over 150 professional and public meetings. He has written extensively about architectural design, practice, and ethics. His latest book, Designing our Way to a Better World (Minnesota) came out in 2016.
Todd Ferry is a Senior Research Associate and Faculty Fellow at the Center for Public Interest Design (CPID) within the Portland State University School of Architecture, and has been with PSU since 2013. He teaches a range of architecture design studios and courses on Public Interest Design, Design Thinking for Social Innovation, and Design-Build Fieldwork. Before pursuing a career in architecture, Todd worked for nearly a decade with nonprofit organizations serving marginalized communities. His current work investigates how new architecture typologies can support traditionally underserved communities through radically participatory processes and seeks to develop innovative tools and models of engagement to aid in this effort. Todd's primary focus areas include housing and homelessness, mobile placemaking / mobile urbanism and innovative approaches.
Sergio Palleroni is a Professor and Director of the Center for Public Interest Design in the School of Architecture at Portland State University and co-founder of PSU's Homelessness Research & Action Collaborative. He also serves as a Senior Fellow of the Institute for Sustainable Solutions and is a founding member and faculty of the federally funded Green Building Research Lab at Portland State University. His research and fieldwork for the last two decades has been in the methods of integrating sustainable practices to improve the lives of underserved communities worldwide. In 1988, to serve the needs of these communities he founded an academic outreach program that would later become the BASIC Initiative (www.basicinitiative.org), a service-learning fieldwork program. Today, the BASIC Initiative continues to serve the poor in Asia, Latin America, Africa and the U.S.
Amy Wilson is an Associate Professor and Co-director of the Tiny Homes Village the School of Architecture and Director of Affordable Housing and Sustainable Communities Initiative, NC State University. Her research has recently expanded to include early stage intervention research focused on expanding the stock of affordable housing available to people with mental illnesses and other health conditions living on a fixed income using Tiny Homes. To accomplish this, Dr. Wilson has helped to build public/private partnership between the School of Social Work and Cross Disability Services, Inc. (XDS), a local non-profit organization. She is the co-director of the Tiny Homes Village project.
Thavagunan Mahadevan is a Director of Operations at the UNC Center for Excellence in Community Mental Health and Clinical Instructor in the UNC Department of Psychiatry. He is the founder and former executive director of XDS, Inc., a nonprofit organization that provides comprehensive care and services to individuals with persistent mental illness and co-occurring additive and intellectual disabilities, and the newly-merged partner of the center. With more than 20 years of experience working in mental health organizations that serve individuals with severe mental illness, Mahadevan has extensive knowledge in designing and implementing innovative treatment programs.
About the hosts:
Keith Chung is a Doctoral Student at the College of Design, NC State University. Keith is a licensed architect based in the San Francisco Bay Area and a subject matter expert at the California Architects Board. Keith's research goal is to articulate and frame urban displacement and informal communities as a political form of extensive governmental apparatus to serve the displaced and self-governance of the unsheltered. The emergence of these atypical urban forms explicitly embodies human values and urban relations within the shifting environmental and socio-cultural contexts. He is the director of Studio CRIT - a multi-disciplinary practice aims to stresses architecture's capacity as a multi-disciplinary practice with writing, research, and design intervention. The studio focuses on understanding spatial conceptualization and production related to the changing context of increasing globalization and the dispersal of local cultures.
Bryan Bell is an Associate Professor at the School of Architecture, NC State University. In 1991, he founded the nonprofit organization Design Corps with the mission "to provide the benefits of design for the 98 percent without architects." His current work includes research on the field of public interest design and the SEED Network which Bell cofounded. His work has been supported with three others by the Fellows of the American Institute of Architects Latrobe Prize of $100,000 to research architecture in the public interest. Bell has published four books in this field, has organized the thirty-three Public Interest Design Institute and eighteen Structures for Inclusion international conferences.