Description
Is 7 YOUR LUCKY NUMBER? It is now because it's the LUCKY NUMBER 7th Picture Perfect Park wine and food tasting and you're invited to join us in celebrating our continued support of our beautiful Lost Dutchman State Park.
And believe me, you'll have a lot to feel lucky about. Here's what we have lined up... This is going to be THE BEST EVENT EVER! Read on and get your tickets now, you know they go fast!!!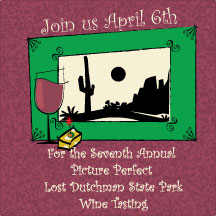 ---
We are proud to announce that the PPP 7 Fine Wines will be provided by our friends at Action Wine and Spirits. These wines are so unique, you can't get them over just any old counter, that's what makes this event so special... fine wine, food and the people who help make it happen!

---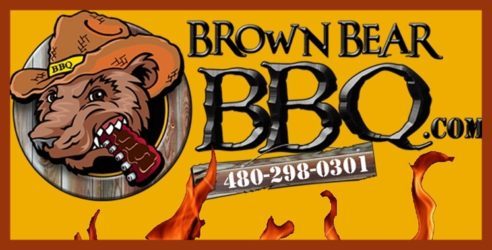 Brown Bear Bar-B-Q Specialists are bringing their awesome food truck again. MENU IS SET! Brown Bear is betting you'll love their amazing Peppered Corn side with pulled pork sliders and chicken vegetable skewers. Bring your appetite to this one!
---

Handlebar Pub & Grill, one of the hottest eateries in AJ, is serving up CHEESE CAKE BITES in an assortment of flavors! They asked me what flavors I wanted, I picked Chocolate, they're going to surprise with more flavors! I looooooooooove cheese cake!
---
Mirage Sports Grill
Just one of the cool eateries in AJ, and it has it all. They are bringing the cheese mountain this year to the Picture Perfect Park wine & food tasting. Visit them on the trail in the ACE hardware plaza.
---

We are pleased to invite the very unique talent of Singer, Song Writer and Humorist, Marconias to perform for our guests this year. An extremely gifted entertainer in one package. Can't wait for this! Get a sneak peek at: https://marconias.com
---
OUR PARTNERS in making our raffle, games, service and event a huge success, please shop with them and thank them, we couldn't do this without them!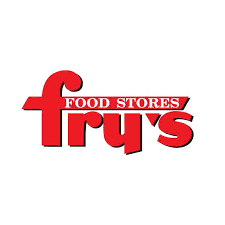 MERCHANTS INCLUDE: BLUE NUGGET AND GIDDY-UP GOURMET, MORE TO COME

ANOTHER AMAZING DONATION FROM LOWE'S YOU ARE SURE TO LOVE. BUY LOWE'S, I DO!
---

Please see below for important information.

BRING ID WITH YOU, IT IS REQUIRED FOR WINE SERVICE AT THE EVENT.
Park admission is covered with your ticket to the event. Please follow the park rules on their website: http://www.azstateparks.com/parks/LODU/index.html
As always, kids/minors are welcome if accompanied by an adult.
Dress comfortably.
Bring a lawn chair if you'd like.
Camping spots are available through the park's website. NOTE: LDSP now has cabins for rent, see website for details.
No outside alcohol allowed inside the event and no alcohol served at the event is allowed outside the event perimeter.
If event is cancelled, partial refunds (upon request) will be honored. The only reason we would cancel is in case of severe weather or natural disaster (such as a zombie apocolypse).
A portion of the ticket price (Couple $44.73, Singles $20.89, Minors $2.44) may be tax deductible. Please consult your tax authority.
A word about the FLDSP: Friends groups are concerned citizens who organize themselves around a need... a worthy cause. In our case, it was to save our park. We are an all volunteer organization formed in 2010 when our park was threatened with closure. In the beginning, the park was in dire need of funds to just keep its gates open. Now we continue to support the park by funding camp upgrades and park programs. Learn more: www.friendsoflostdutchman.org