Event Information
Refund policy
Contact the organizer to request a refund.
Eventbrite's fee is nonrefundable.
A virtual two-part series where authors of 2020 picture books give a talk and share their publishing tips.
About this event
Are you a children's book fan or have secretly wanted to write a children's book?
This two-part virtual series is for you!
Hear from 6 picture book authors with new releases in 2020! They'll share the inspiration for their stories, their writing process and publishing tips for those who have a story idea of their own! The author talks include a live Q&A, so you can ask all your picture book questions.
Attend one or both dates!
Debut Spring/Summer Picture Book Authors
Tuesday, Aug. 18 from 7 - 8 p.m. EST
Randi Sonenshine, author of "The Nest That Wren Built" (March 2020)
Lisa Katzenberger, author of "National Regular Average Ordinary Day" (June 2020)
Jolene Gutierrez, author of "Mac and Cheese and the Space Invader" (August 2020)
Debut Summer/Fall Picture Book Authors
Tuesday, Aug. 25 from 7 - 8 p.m. EST
AJ Irving, author of "Dance Like a Leaf" (August 2020)
Elizabeth Gilbert Bedia, author of "Bess the Barn Stands Strong" (September 2020)
Susan Novich, author of "Guess Who Is Behind the Door" (Fall 2020)
Pricing:
Attend one virtual talk for $10 or both dates for $15.
Tickets are nonrefundable. Attendees will be sent a Zoom link the morning of each event. Registration closes 30 minutes before the event starts.
Meet the Picture Book Authors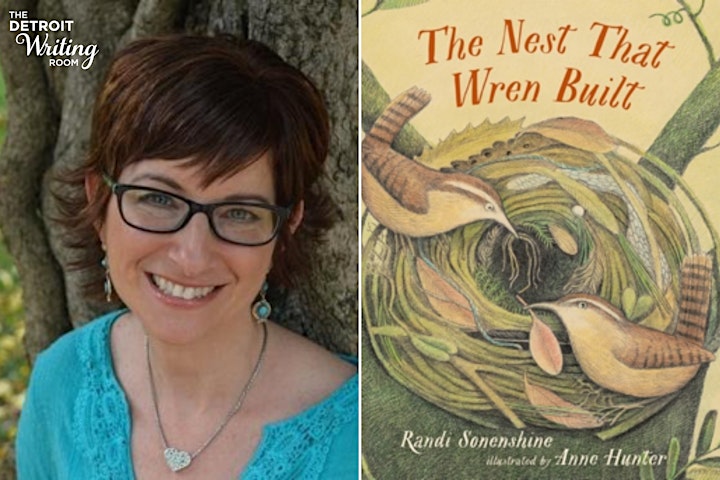 About Randi Sonenshine
Randi Sonenshine grew up exploring the magical "swamp" and woods behind her home on the Eastern Shore of Maryland, developing an early sense of wonder and appreciation for the natural world. This love of nature often appears in her writing and poetry, including her debut picture book, THE NEST THAT WREN BUILT (Candlewick 2020). A former middle and high school English teacher and college reading instructor, Randi is currently a literacy specialist and instructional coach. She lives with her husband, two sons, and a spoiled schnauzer in Northwest Georgia, and does her best writing accompanied by birdsong and a good pot of Earl Grey tea.
About the Book
In the rhyming style of "The House That Jack Built," this poem about the care and specificity that Carolina wrens put into building a nest is at once tender and true to life. Papa and Mama Wren gather treasures of the forest, from soft moss for a lining to snakeskin for warding off predators. Randi Sonenshine's lilting stanzas, woven with accurate and unexpected details about Carolina wrens, and Anne Hunter's gentle, inviting illustrations reveal the mysterious lives of these birds and impart an appreciation for the wonder of the life cycles around us. Order here.
About Lisa Katzenberger
As the youngest of eight siblings, Lisa Katzenberger has been making up stories to entertain herself since she was a child. She loves to write books that make children laugh, escape, and dream. Lisa lives near Chicago with her family in a 100-year-old Victorian house with sloping floors and the tiniest bathroom you've ever seen. When she's not writing or taking care of her kids, she spends way too much time on Twitter as @FictionCity.
About the Book
Peter does not like being bored, so he comes up with a way to have some festive fun — he'll celebrate a different holiday each day! He even rates them on a scale of 1 to 10. But when he wakes up one morning to discover there isn't any holiday, he realizes he'll have to take matters into his own hands and make up his own! That's easier said than done, though, and nothing seems to go right — until Peter realizes that even a regular, average, ordinary day can be something worth celebrating. Order here.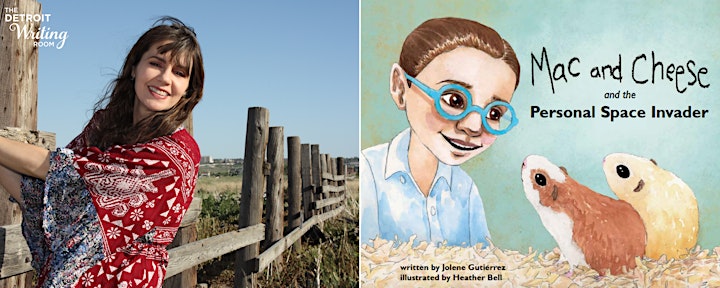 About Jolene Gutiérrez
Jolene Gutiérrez grew up on a farm, surrounded by animals, plants and history. She is an award-winning teacher-librarian and has been working with diverse learners at Denver Academy for the past 25 years. She holds a Master's degree in Library Science. She's a wife of 21 years and mama to two teenage humans, three preteen dogs and an ever-rotating variety of other animals including a crested gecko, a hedgehog and a rescued squirrel. She's an active member of SCBWI and The Author's Guild, a We Need Diverse Books mentorship finalist, a Writing with the Stars 2018 mentee, a Highlights Foundation scholarship winner and the winner of the Cynthia Levinson nonfiction picture book biography scholarship to the Writing Barn. She's an active member of debut author groups Perfect 2020 PBs, a member of the critique group 6 Ladies and a MANuscript and a co-creator of #KidlitZombieWeek.
About the Book
Mac and Cheese are the class guinea pigs, and Oliver is their biggest fan. So he watches them to learn how he can be a good friend. But while snuggling might be fine for guinea pigs, Oliver's classmates don't like him getting in their personal space bubbles. With the help of his teacher and classmates, Oliver learns that being a friend means respecting personal space. Order here.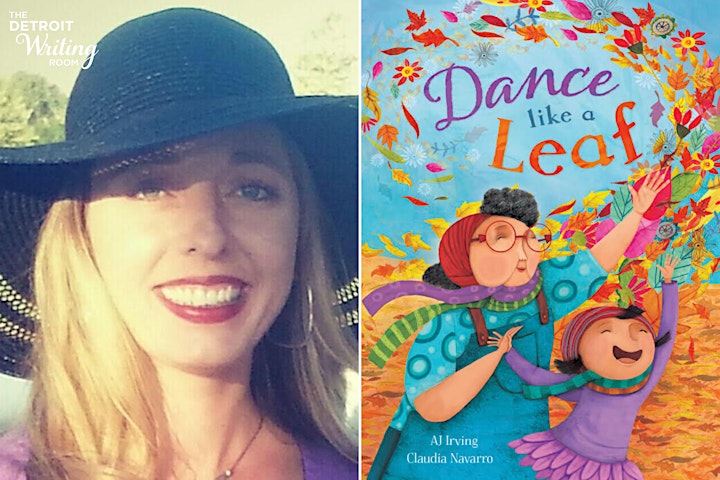 About AJ Irving
AJ Irving grew up in Boise, Idaho, writing stories and daydreaming about becoming an author. Now, she writes picture books and poetry on her big back porch in a tiny town near Jackson, Wyoming. AJ reads kidlit every day and dances every chance she gets. Her debut picture book, DANCE LIKE A LEAF, releases from Barefoot Books on Aug. 21, 2020.
As an author and former bookmobile librarian, AJ is passionate about inspiring children to read. She received a B.A. in journalism and women's and gender studies from the University of Oregon. AJ is represented by Jordan Hamessley of New Leaf Literary.
About the Book
As her grandmother's health declines, a young girl takes the lead in their cozy shared autumn traditions. Poetic prose paired with evocative illustrations by illustrator Claudia Navarro make for a beautiful celebration of life and a gentle introduction to the death of a loved one. DANCE LIKE A LEAF is also available in Spanish as "Baila Como Una Hoja" and in French as "Danser Comme Une Feuille." Order here.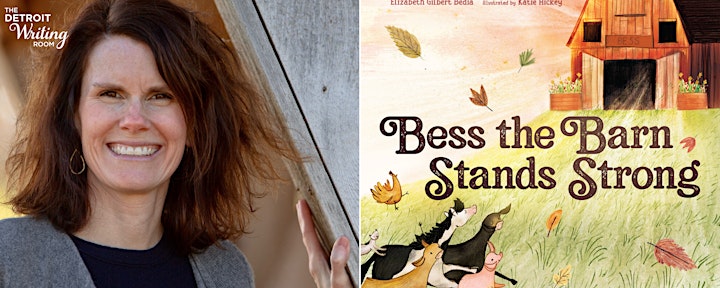 About Liz Gilbert Bedia
Elizabeth (Liz) Gilbert Bedia grew up in rural northern Illinois surrounded by fields, farms and a multitude of jovial animals. She became a keen observer with a big imagination — always creating stories about the world around her. After college, Liz wore many hats — researcher, elementary school teacher and audiologist. While raising her own children, she returned to her creative roots and started writing picture books. Liz lives in central Iowa with her husband, two teenagers and two enormous dogs. Her debut picture book, BESS THE BARN STANDS STRONG, is forthcoming from Page Street Kids in September 2020 and her second picture book, ARTHUR WANTS A BALLOON from Ups!de Down Books/Trigger Publishing UK arrives October 2020.
About the Book
A steadfast old barn shows she's sturdy enough to save the day.
Beam by beam and board by board, Bess the barn is built by able hands to keep the farm's animals safe and sound. Through many seasons and celebrations, that's just what she does, until she starts to sag…and creak…and slump. Then new everything comes along: a new farmer and a shiny new barn. A mean storm arrives not far behind, putting both barns to a dangerous test — can old Bess weather this threat to the farm?
Bess opens her doors wide, welcoming all to celebrate the year-round ups and downs of farm life and admire the enduring strength and importance of something made to last. Order here.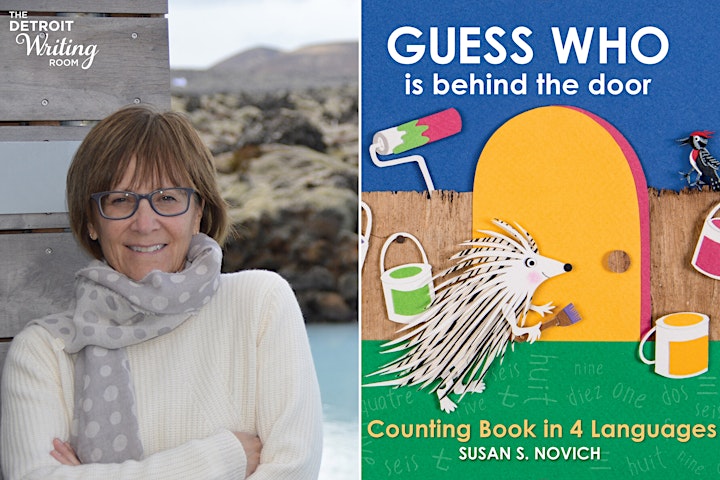 About Susan Novich
Susan Novich is an author/illustrator who finds inspiration in the tiny scraps of paper that other, perhaps more sensible, people would likely throw away. Her debut board book, GUESS WHO IS BEHIND THE DOOR is done in her signature cut-paper style and will be published by Schiffer Publishing, Fall 2020. Her second book, HELLO, HANUKKAH, will be published by Kar-Ben in 2021.
Susan has a B.A. from Simmons College and a certificate in Children's Book Illustration from the Rhode Island School of Design. The mother of three grown children, Susan founded Susabean Studios in 2012 where she created a line of greeting cards, designed licensing for the home goods market and worked with clients on custom illustration and calligraphy projects. Susan lives in Providence, Rhode Island with her husband, Bruce, and dog, Coco, a rescued Havanese. She is represented by Anna Olswanger at Olswanger Literary. Learn more about Susan at www.susabean.com, or follow her on Instagram @Susabeanstudios and Twitter @susannovich.
About the Book
Toting an assortment of brushes and buckets full of colorful paint, Pinky Porcupine sets off to brighten up the town. Peeking behind each freshly painted door she discovers a diverse world of animal friends engaged in entertaining antics. An adventure of colors, counting and more ensues, along with a multilingual introduction to the numbers one through ten in four different languages. Order here.
About The Detroit Writing Room
The Detroit Writing Room is an event and co-working space to work and write. Whether you're working on the next Great American novel or a business plan, the DWR has 30 professional writing coaches to help with all your writing needs. We also host book talks, writing workshops, open mic nights and private events. Visit detroitwritingroom.com to sign up for coaching, memberships, events and more.
Location
Refund policy
Contact the organizer to request a refund.
Eventbrite's fee is nonrefundable.