Event Information
Refund Policy
Contact the organizer to request a refund.
Eventbrite's fee is nonrefundable.
This 2-hour workshop will show writers and illustrators how they can make their picture book characters come alive through words and images.
About this Event
Your character is your story! Create them well, you'll have your readers championing for them. This workshop is also meant for STUDENTS who want to pursue narrative writing & illustrations in the field of children's book publishing.
Characterisation in picturebooks is not unlike characterisation in any sort of writing or drawing whether it is fiction or nonfiction. In picturebook characterisation, the creator must bear in mind that text and image intermingle to produce reaction in your reader.
In this 2-hour online workshop, participants will get an opportunity to learn from our mentors while directly interacting with them. Each mentor will spend one full hour with participants walking them through the details of "character development" & "character design" from a writer's & an illustrator's perspectives.
Session highlights will be -
Components of "Getting Your Character on the Page & Canvas"
Putting Flesh to Bones
Character & Conflict
Happily Ever After
About the Mentors:
Eva Wong Nava is an award-winning children's book author who has worked with several publishers including Penguin Random House and World Scientific. She writes picture books to entertain, engage, and enthral young readers. She is also an art historian. When not writing for children, she meanders art museums and galleries waiting for the next piece of art work to speak to her and inspire another story. She weaves stories from art at CarpeArte Journal. When not writing, Eva teaches the art of picture book creation through her workshops under the brand, Picture Book Matters. She is currently working on a series of picture book biographies that includes art and history.
Instagram: @evawongnava
Twitter: @evawongnava
Debasmita Dasgupta is a Singapore-based, internationally published, Kirkus Best Prize nominated illustrator & graphic novelist. With over a decade-long career in the field of publishing, she enjoys drawing both fiction & non-fiction for children & young adults. She has illustrated over 20 picture books, comics & poems working with publishers in India, the United States, the United Kingdom and Singapore including Scholastic India and HarperCollins London. Widely known as an art-for-change advocate, Debasmita tells stories of changemakers from around the world partnering with global non-profits. Her art is exhibited across the globe & more than 40 international media outlets have featured it. Her debut graphic novel, NADYA, is critically acclaimed in many countries. She is currently working on her first long-form graphic novel with Penguin Random House.
Instagram: @debasmitadasgupta
Twitter: @debasmita_d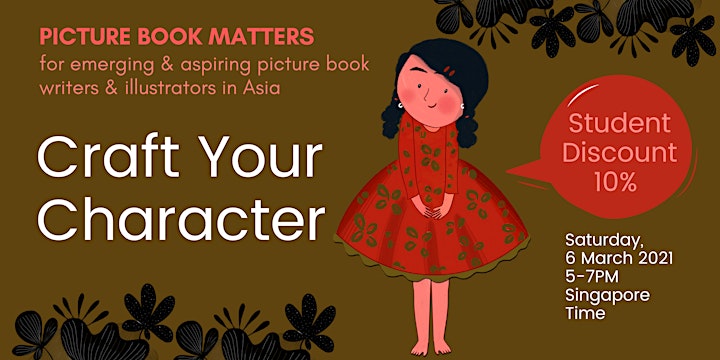 Date and Time
Location
Refund Policy
Contact the organizer to request a refund.
Eventbrite's fee is nonrefundable.