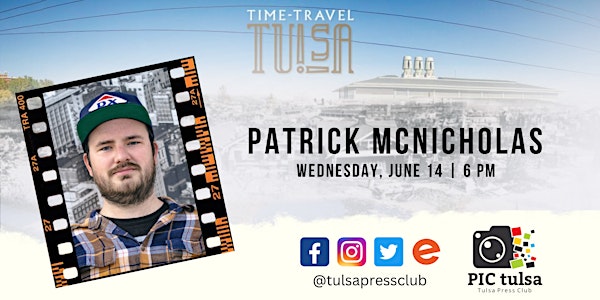 PICTulsa: Time-Travel Tulsa
PicTulsa with Patrick McNicholas of Time-Travel Tulsa
Date and time
Wednesday, June 14 · 6 - 8pm CDT
Location
Tulsa Press Club & Benevolent 415 South Boston Avenue #23 Tulsa, OK 74103
About this event
Join us for PicTulsa, the premier photojournalism event in Tulsa! This event was created to celebrate and showcase the incredible talent of photographers in our community who are dedicated to their craft. Complimentary light snacks and cocktails for purchase will be available.
PicTulsa is more than just an exhibition – it's an immersive experience where art and storytelling intertwine. Expect an evening filled with awe-inspiring visuals, thought-provoking narratives, and a chance to connect with a local photographer who has captured the essence of our city and beyond.
Whether you're a photography enthusiast, a supporter of local artists, or simply curious about the power of visual storytelling, PicTulsa is an event not to be missed. Come and immerse yourself in the world of photojournalism, where the extraordinary moments of life are captured and celebrated in extraordinary ways.
Secure your spot now and be a part of this inspiring gathering of passionate photographers, art lovers, and storytellers at PicTulsa. Get ready to be captivated, moved, and inspired by the talent within our community. We can't wait to see you there!
In addition to the stunning exhibits, you'll have the opportunity to dive deeper into the creative process during the 30-minute presentation by featured photographer Patrick McNicholas with Time-Travel Tulsa. Through his storytelling, he will share the stories behind the images, offering insights into his vision and techniques in creating his unique art style.
More about the artist:
Patrick McNicholas is a Tulsa artist and historian who specializes in photography that blends both the past and present into a single image. McNicholas started Time-Travel Tulsa in 2018 as an art project that soon evolved into a research experiment as well.
Over the years, he has showcased many historic locations in Tulsa and beyond, through his detailed imagery and writing. He contributes to TulsaPeople magazine, is a tour guide at The Outsiders House Museum, and hosts the Tulsa Times Podcast.
Frequently asked questions