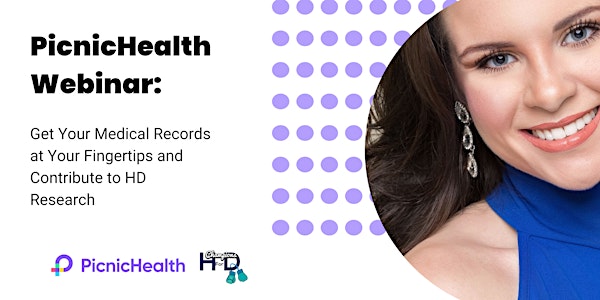 PicnicHealth Informational Webinar: Huntington's Disease
Join us to learn about how PicnicHealth can help you keep your medical records organized while contributing to research!
About this event
If you are living with HD and are looking for tools to help access & organize your medical records and ways you can contribute to your community, join us for PicnicHealth's informational session and Q&A!
We are a health tech company that understands how challenging it is to access and share your medical records when you need them. With our technology, we do all the work of retrieving and organizing all of your (or your loved ones) records (including imaging!) in one place so you have it at your fingertips whenever you need it. With your consent, we help leverage the de-identified data found within these medical records, allowing you to contribute to real-world data research from home.
When you attend, you'll learn about:
PicnicHealth's mission and commitment to advancing research in the HD community
How our technology can help improve how you manage your care
What "real world data" is and how it can help transform research in HD
Your story and voice matter!
Learn more and sign up here. You will receive $200 upon confirmation of a Huntington's Disease (HD) diagnosis or Positive genetic test for Huntington's Disease.