Description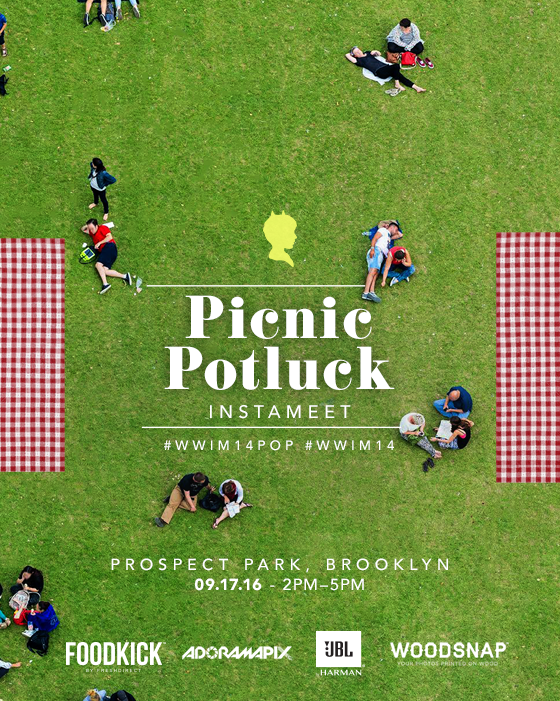 PICNIC POTLUCK INSTAMEET
PROSPECT PARK, BROOKLYN
Location in Park: NETHERMEAD (West of Boathouse)
(Closest Subway B/Q Prospect Park)

For all those in and around New York on Saturday, September 17th, join us from 2pm to 5pm for our very first "PICNIC POTLUCK" Instameet in celebration of Instagram's World Wide Instameet Weekend #WWIM14, Centered around food, good company, and of course portraits, the official hashtags for the meet are #WWIM14POP, #PursuitofPortraits and #WWIM14.

MEET GOAL:
The goal of the meet is to make portraits, relax over good eats, and most importantly, get to know your fellow portrait-lovers! Oftentimes at meets, with all of the excitement, it can be difficult to really get to know other people. This time around, it'll be a little different. In between creating portraits, we encourage you to come back to our central meeting spot, and take the time to develop and deepen connections within the POP community.
WHAT TO BRING:
Come one, come all. Bring an appetite for portraits, food and drinks to share, your picnic blanket, and most of all, an openness to meeting people and making new friends. We have partnered with FoodKick who is graciously providing some picnic essentials for everyone and picnic-friendly sounds, powered by JBL. A friendly reminder that alcoholic drinks are not permitted in the park.

DIRECTIONS/PLAN OF EVENTS:
Meeting Spot: Nethermead - Prospect Park. West of Boathouse. Short walk from B/Q Prospect Park Subway Station. It's a large open lawn and we will be on the south-west corner.
2pm – 3pm - Meet and greet. Sign in, grab your name tag, set up your blanket and let the picnic begin!
3pm – Group Shot
3:30 – 5pm - Open to Shoot/Network/Picnic (Map of Proposed Photo Walk below - Starts at 3:30pm)
7:00pm –11pm: Pursuit Mag After-Party, W New York Union Square - RSVP HERE
PORTRAIT CATEGORIES & PRIZES:
"Classic" - Sponsored by AdoramaPix
1 Winner & 2 Runners: Gift Certificates by www.adoramapix.com

"Portrait in the Park" - Sponsored by Woodsnap
1 Winner & 2 Runners: Gift Certificates by www.woodnsnap.com

"A View from Above" - Sponsored by FoodKick
1 Winner & 2 Runners: Gift Certificates by www.foodkick.freshdirect.com

"Best of All" - Sponsored by JBL
One lucky winner will win one Xtreme speaker, courtesy of JBL.

Deadline for submissions: Photos should be shared using the meet hashtags by Sunday, October 2nd at 11:59PM EST. to be considered for any one of the portrait categories.

LAUNCH-PARTY:
Join us at 7 PM for the Pursuit of Portraits Magazine launch party at the Studio Level at W New York - Union Square, accompaigned by a photo exhibition sponsored by AdoramaPix and music by DJ Eli Fola. One lucky winner of our 10pm raffle will win one Xtreme speaker, courtesy of JBL. NOTE: Entrance is based on first come, first serve. Please RSVP for the Launch-Party
Copies of the Pursuit of Portraits Magazine and limited edition PoP metallic pins will be available at the event for purchase. If you are unable to attend, you can pre-order a copy online at www.pursuitofportraits.com/shop (shipping & handling applies)

PARTNERS:
We would like to thank FoodKick for graciously providing picnic essentials for everyone at the potluck and for supporting a portrait category with gift certificates. We would like to thank JBL for keeping the energy high by donating a splashproof, JBL Xtreme speaker toward our Picnic Potluck Instameetand the "Best of All" category. Our thanks also go to AdoramaPix & Woodnap for supporting prizes towards portrait category challenges for the Instameet. Lastly, we would like to thank W New York - Union Square for hosting us for the launch-party and to AdoramaPix for sponsoring the photo exhibition. Thank you to our friend DJ Eli Fola for the music that definitely set the mood for the night at the Launch Party.


To learn more about past Instameets we've hosted, please visit www.pursuitofportraits.com/events