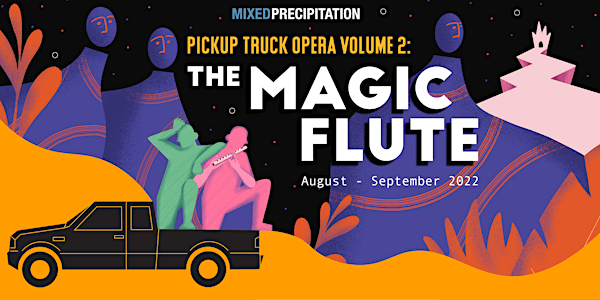 Pickup Truck Opera: Vol 2, The Magic Flute
Join Mixed Precipitation at the Peace Plaza in downtown Rochester for the second installment of their traveling operatic adventure.
When and where
Location
Peace Plaza 1st Avenue SW and 1st Street SW Rochester, MN 55902
About this event
Make a reservation for this outdoor opera extravaganza! Suggested donation, $10-$25 per person.
Mozart's 1791 opera, Die Zauberflöte (The Magic Flute), is thrust into modern times and a not-so-distant future. Our young heroes are early-career professionals entering essential jobs with a high risk of burnout. Young Tamino is a first-year teacher at an underfunded school, Strange Land Middle. Pamina is an education specialist but she's been hijacked by an online startup, SarastroCrop. Rival forces attempt to control the destiny of these eager and impressionable heroes.
This futuristic telling of the opera is created by music director Gary Ruschman, playwright Francisco Benavides, and staging director Taous Khazem. Mixed Precipitation tells the story with a cast of singers, puppeteers, and instrumentalists, featuring Mozart's fiery arias, epic choruses, and the groovy beats of the 90s discotheque, including Deee-lite, Pizzicato Five, Icelandic pop star Björk, and other 90s hits.
The performance takes place outdoors as street theatre in Rochester's Peace Plaza. Parking is available at Center Street Parking Ramp (110 West Center Street) or the SP + Parking Ramp (100 1st Street SW).
What to bring: A folding chair or blanket for your comfort. A beverage for hydration on a hot day. Merchandise is available via cash, card, Venmo or PayPal.
The performance is approximately 75-90 minutes.
Mixed Precipitation is thankful for the Rochester Art Center, the Rochester Downtown Alliance and Destination Medical Center for making this performance possible.
To learn more about the cast and crew and their summer travels, click here.
The Pickup Truck Opera continues Mixed Precipitation's 14-year tradition of outdoor opera extravaganzas, touring Minnesota communities in late summer. Mixed Precipitation began this mobile format in 2020, using a blue 2011 Ford Ranger Pickup Truck and a trailer as the container and platform for the opera's action. This allowed them to reach audiences on neighborhood streets, public squares, libraries, and care facilities. They reached an audience of over 3,000 in 2021 with their production, Pickup Truck Opera: Volume One - The Odyssey. One audience member called their production "A magnificent, heart-warming, communal art experience."
Watch a video clip from our 2021 production below.