Description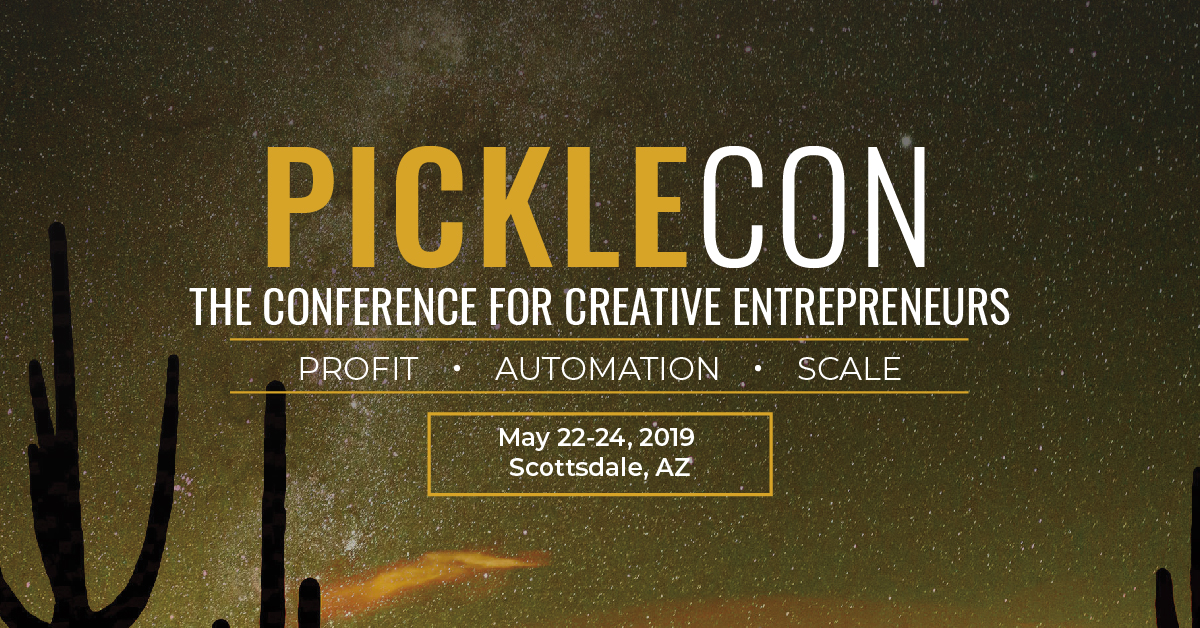 PICKLECON is the premier conference for creative entrepreneurs to grow their business and make 2019 the best, year, yet.
Join an intimate collection of guests, speakers, and trainers over several jam-packed days of training across marketing, sales, scale, systems, automation – and a deep dive into how to do it all while maintaining a healthy balance (read: without burning out!)
Over a dozen sessions and workshops, two parties, and a world-class venue at the iconic Hotel Valley Ho in Scottsdale, Arizona. You won't want to miss this – your business (and life) can't afford it!
Why Should You Come To PICKLECON?
- GAIN THE CLARITY AND FOCUS NEEDED TO ELEVATE YOUR BUSINESS
- DISCOVER HOW TO AUTOMATE AND SCALE YOUR BUSINESS
- LEARN FROM LEADING CREATIVE ENTREPRENEURS AND BRANDS
TICKETS AND PRICING

GENERAL ADMISSION TICKETS COME WITH:
- General Admission Pass
- 9 Speaker Sessions
- 13+ Training Sessions (More Added Weekly)
- Ticket To The PICKLEFEST Party
VIP TICKETS INCLUDE:
- All General Admission Items Plus:
- VIP Access Pass
- Bonus Training Day (Wednesday the 22nd)
- Ticket To The Speaker VIP Reception
- Lunch both days
WHAT SHOULD YOU EXPECT AT PICKLECON?
PICKLECON is not for everyone. Really. We're looking for those ready and willing to take themselves and their businesses to the next level in 2019.

PICKLECON will require work. This isn't a sit back and scroll Instagram type of event. You will be challenged. You will laugh. Some will cry.

The training team and speakers will challenge you and accelerate you into the second half of 2019.

We are looking for highly motivated individuals who are ready and willing to do what's required.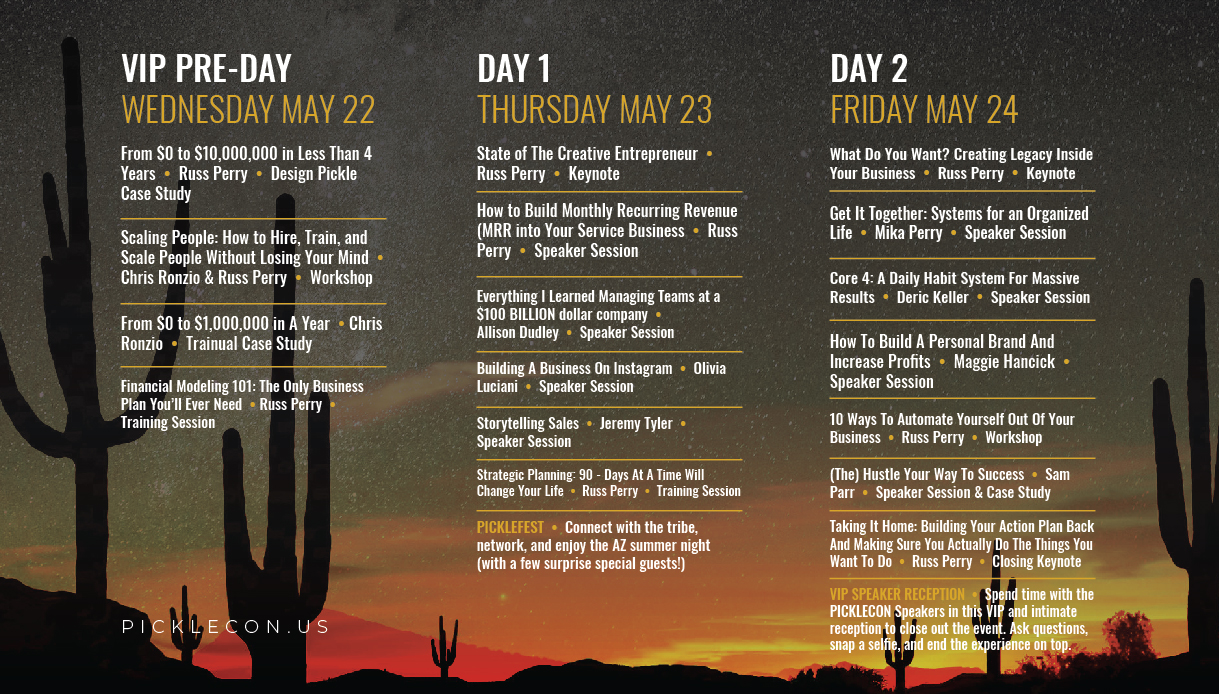 WHY SHOULD YOU ATTEND PICKLECON?
Creative entrepreneurs live in a constant state of flux.
Whether you run a large scale agency or you're the one person shop, the journey can be lonely and often times hard as hell.
The highs are HIGH and the lows are LOW. Too often everything is on the line – the client, the deal, the funding – and one decision can be the difference between thriving and sinking.
Do you lack agency running your agency?
Has your entrepreneurial trajectory gone flat?
Are you seeking a boost from like-minded entrepreneurs?
Truthfully, PICKLECON is not a conference. It's an experience. Intimate, powerful, challenging, and the exact dose of inspiration, strategy, playbooks, and real-world content from the leading creative entrepreneurs in the country.