Description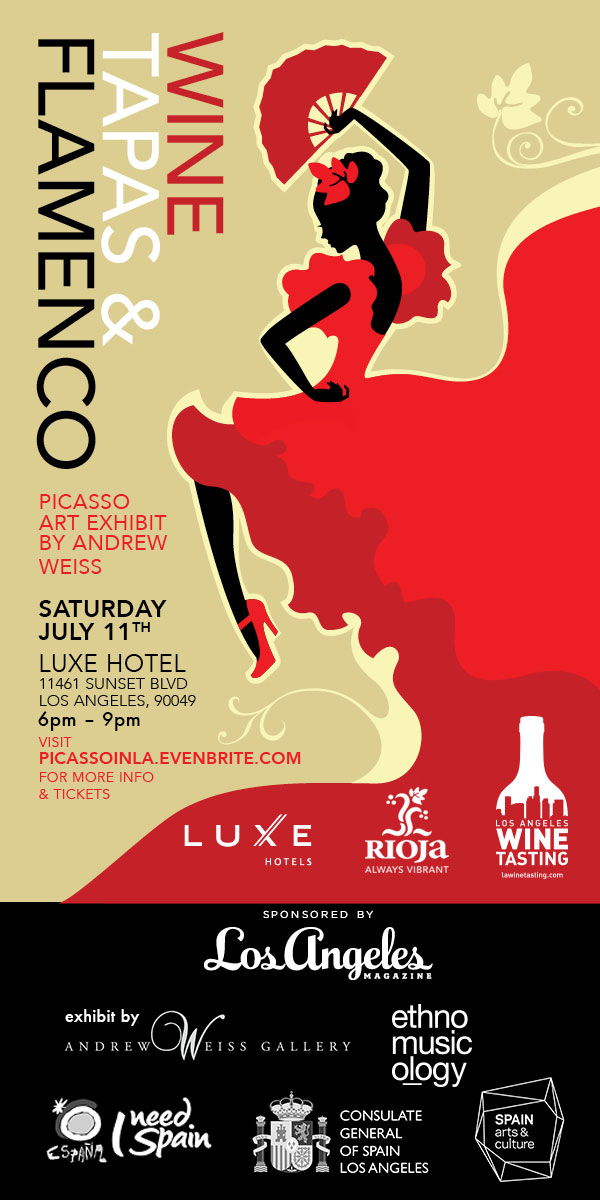 From 6 to 9PM, join us for a unique evening of
WINE, TAPAS, LIVE FLAMENCO & ART!.. Spanish style!


Indulge yourself with wines from the Rioja region of Spain paired with gourmet Tapas created by Chef Olivier Rousselle. While you sip and mingle by the pool, start moving to the beat of La Tigresa's neo-flamenco rhythms.. a live performance by one of Los Angeles's most talented flamenco dancers. Check rave reviews from LA Times and LA Weekly. Join the dance party as DJ Marlon Fuentes is curating a bespoke selection of freshly imported Spanish tunes.
Photo albums of past events at the Luxe on Sunset:
Femmes d'Hollywood / Spanish Soiree / Saint Tropez / Mediterranean Soiree
Peruse an exclusive exhibition and silent auction of Picasso artworks presented by the Andrew Weiss Gallery. Choose from original etchings, wood engravings and lithographs culled from rare editions and important collections. For over 4 decades now, Andrew Weiss has also been collecting 20th century master art from Dali, Picasso, Chagall, Miro, Renoir.. for its exclusive private clientèle & galleries around the world as well as prestigious auction events at famous houses (Christie's, Sotheby's..). Andrew Weiss is a founding member of the IFAA, International Fine Art Appraisers , and is well renowned worldwide for his expertise..
Rendezvous at the Luxe hotel on Sunset Boulevard. Unveil an urban retreat located on seven acres of lush, pristine property perfectly perched at the intersection of Brentwood and Bel Air nearby The Getty Center. Enjoy a perfect respite on the spacious deck by the pool. Bring your palate and get ready to experience a relaxing Andalusian getaway!


$40 Full Price Tickets available At The Door unless event is sold out. We strongly advise you to purchase your ticket(s) IN ADVANCE as most events at The Luxe were full!
PRICE INCLUDES
- Access to the "Picasso Soiree" at the Luxe Sunset Boulevard Hotel from 6 to 9pm
- Live Flamenco Performance by La Tigresa
- Picasso Artwork Exhibition & Silent Auction by the Andrew Weiss Gallery
- Complimentary Tray-Passed Light Appetizers the FIRST HOUR between 6-7pm
- Dance Party with DJ Marlon's Modern Spanish Vibes
- a Perfect Mingling Atmosphere with other Angelenos
- $25 of Free Ride Credit with Lyft (NEW users only - see details below**)
PLEASE READ CAREFULLY: GLASSES OF WINE OR SPECIALTY COCKTAILS OR SOFT DRINKS CAN BE PURCHASED AT THE BAR AT THE LUXE DURING THE WHOLE EVENT as well as additional gourmet bites will be on sale. SPECIAL $5 ON FIRST GLASS OF WINE SOLD AT THE BAR BY THE LUXE HOTEL. TICKETS DO NOT INCLUDE WINE.
DRESS CODE - Important: Business/Upscale Casual, Cocktail Chic. NO T-Shirts. NO Sneakers. Jacket Recommended for Men. Dress Shoes.
Must be 21 and Over to Attend. Every Guest's ID will be Checked at Check-in. Please Enjoy Responsibly.


Oh by the way, don't worry about taking your car... and take Lyft to the hotel!
Your ticket includes a $25 credit for new users with code LAWINE.**
** Lyft is a mobile app that lets you request a ride from a fully-vetted, hand-selected community of drivers at the push of a button. Not only is Lyft more convenient, reliable, and affordable than a caband black car services, you get to ride around with a pink mustache on the front of your driver's car! What's not to love. For this soiree attendees, Lyft has kindly offered $20 of free credit (first users only).
Just download the Lyft app and enter LAWINE under settings to take a free trip on us.

Ticket Policy: All sales are final. No credit. No refunds.
A name change however can be done anytime until the event starts.
Question? email at info@lawinetasting.com

Dress code: Business/Upscale Casual, Cocktail Chic
No T-shirts, no sneakers

Must be 21 and over to attend. Please enjoy responsibly.
Organizer of Picasso & Flamenco Soiree (Luxe Hotel on Sunset)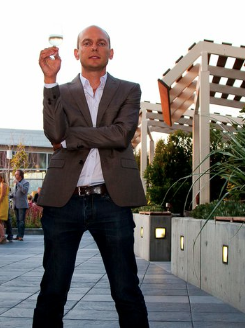 Los Angeles Wine Tasting
Lifestyle Wine Events in Los Angeles
for all upcoming events & details: http://www.lawinetasting.com (new website in construction)
Having a huge passion for Wines and Spirits, I have been working in this industry for more than 12 years now, both in Europe and in the U.S.

In 2000, I  worked for ChateauOnline.com in Paris.  I was there a wine consultant for premium clients, in Europe and overseas, helping them to build up a wine collection.  In 2001, I worked in marketing for Moet Hennessy Louis Vuitton (LVMH).  As a product manager for Hennessy Cognac, I contributed to the launch of Fine de Cognac on the European market.  End of 2001, and for two years, I was hired out by the Champagnes Piper and Charles Heidsieck (Remy-Cointreau Group) in Reims, France.  I was working as a Brand Manager for Charles Heidsieck and launched new products both for the European & U.S. markets.

Since October 2004, I have been hosting educational wine events in Los Angeles area.  I have been also representing a boutique wine distributor targeting high-end hotels & restaurants, wine bars, wine & gourmet stores in all South California.

The World of Wine is a great way to meet GREAT people and YOU are now part of it... CHEERS!!

Jean-Baptiste
jean-baptiste@lawinetasting.com